SYRIA IS NOT THE UKRAINE
Everybody believes himself to be the centre of the world, and those with their backs against the wall tend to interpret everything in the light of the difficulties they face. This means it is easy to lose a balanced perspective. This is illustrated by the reaction of many Ukrainian Greek Catholics to the meeting between Pope Francis and Patriarch Kirill of Moscow.
Sandro Magister, the Italian commentator on papal affairs has an article entitled,
"The Protest of Ukrainian Catholics: 'The Pope Supports Russian Aggression'"
I understand their concern and sympathize with their suffering, though, actually, the joint declaration did publicly state that they have a right to exist and to do the things that churches do, which is an advance from the Russians. However, it must be admitted that this was a side issue at the meeting. The problems that occupied the main attention of pope and patriarch were the plight of Christians in the Middle East and militant secularism in the West. The situation of Christians in the Middle East is too urgent to put off until a solution is found in the Ukraine: Christians are dying every day in Syria, Libya. Shamefully, Pope Francis and Eastern Christians cannot rely on help from Obama and David Cameron whose priorities do not include supporting or protecting the Christians, and who are allies of the very countries whose mercenaries have brought about the situation.
Ukraine and Syria could not be more different. Western Ukraine looks to the West, and they regard Russia and the Russian Orthodox Church as foreign. In the Middle East, Britain and America have had a number of disastrous wars which have left behind failed states in which extremist Islam can flourish. Unabashed by the chaos they have left behind in Iraq and Libya, they wanted to interfere, once more, in Syria to overthrow another despot, Asaad, so they backed so-called "moderate" muslims to do the job. When the Christians said that a large part of the "moderate" mercenaries aren't moderate at all, they were ignored, as their fate is being ignored now. Little wonder that Russia has stepped into the vacuum created by western action.
For years now, unlike the Ukraine, many Christians have been seeking Russian passports, and the Christian community looks to Russia for protection. Catholics and Orthodox alike know that Putin, by his words and by his actions is clearing spaces where people can live in peace and where Christianity can flourish once again, in contrast to the western attempts.
That is not to say that the West is doing nothing. United States and Britain are pouring money into helping the refugees in the camps; however, this aid mostly favours Muslim refugees because Christians are not welcome there; so a greater proportion of the refugees who try to make it to Europe are Christians. Typically, David Cameron won't help them, concentrating on giving aid to the camps where the people are Muslims. I don't know the religion of Obama, but Cameron claims to be a Christian: he ought to be ashamed of himself.
Catholic charities like "Caritas" and "Aid to the Church in Need" are doing an enormous amount of good in Syria itself, as well as in the camps and among the refugees, Catholic and Orthodox. The aid given to all by other bodies often does not reach the Christians: (listen to the podcast from Vatican radio by clicking the title).
Hence, I think the Ukrainian Greek Catholics, along with Sandro Magister, should have a little patience with Pope Francis and Patriarch Kirill, and just be grateful that they are not in Syria.
The Suffering of Christians in Syria
The persecution of Christians by radical Islamic groups in Syria over the past two years has been appalling—and largely ignored
from an article by Raymond Ibrahim My source: Frontpage Mag.

Wherever U.S. leadership has helped Islamic jihadis topple secular autocrats in the name of "democracy and freedom," indigenous Christian minorities are being forced to convert to Islam or die.
Many are accepting death.




Most recently, on August 28 near Aleppo, the Islamic State (IS or ISIS) tortured, mutilated, publicly raped, beheaded and crucified 12 Christians for saying "they would never renounce Christ" for Muhammad.


The jihadis took one group in front of a large crowd. They cut off the fingertips of a 12-year-old boy, who steadfastly refused to submit to Islam. They

"severely beat him, telling his father they would stop the torture only if he, the father, returned to Islam."

He refused, so they

"also tortured and beat him and the two other ministry workers. The three men and the boy then met their deaths in crucifixion."


According to a Christian leader associated with the martyrs,

"They were left on their crosses for two days. No one was allowed to remove them."

A sign saying "infidels" was placed next to their crosses.
"Do you realize what you have done?" — Vladimir Putin, President of Russia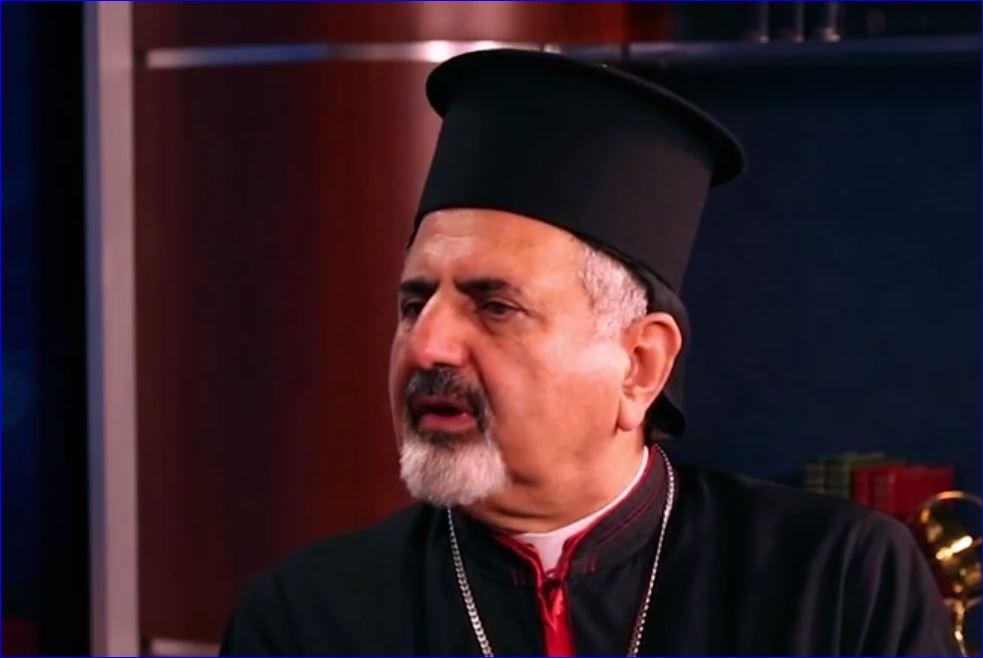 West has 'betrayed the Christians of the East', says Syrian Patriarch
by STEVE RAY on NOVEMBER 28, 2015
Syria, November 19, 2015: The head of the Syrian Catholic Church, Mar Ignace Youssif III Youan, has said the West has betrayed Syrians and caused an endless conflict in the country.
Speaking to Le Messenger, an Egpytian Catholic magazine, Youan spoke passionately about the "chaos" that Western governments have caused by ignoring the advice of Syrians, assuming that Assad's regime could be destroyed in a few months, and now having faith in airstrikes as the answer when ISIS has thoroughly infiltrated Iraq, Syria and beyond.
"We Christians are not able to live in this chaos," the Syrian Patriarch said. "The West has betrayed us."
The patriarch accused Western governments of wanting to "perpetuate the endless conflict in Syria" and of having "betrayed the Christians of the East. We explained from the beginning that our situation was different from that of other nations in the region, they were not listened to. And now we mourn deaths over the past five years. "
He described the current situation in Syria as "dramatic, and all the Syrian people are living in pain" as they are trapped under the regime of ISIS and other terrorist groups "who use Islam as an excuse to 'purify' areas under their control in the name of religion, and Muslim scholars who tell us that Islam is alien to these facts.
"It's a shame that the West has abandoned Christians to this situation," he said.
The patriarch said that terrorist groups, with financing from Saudi Arabia and other countries in the area, have thoroughly infiltrated Iraq and Syria, and there are now terrorists moving into Europe posing as refugees.
ISIS "have already infiltrated in European populations. For years they have received money, weapons and religious indoctrination from Saudi Arabia and the Gulf countries, with the supervision of the West. To claim that the solution is to carry out air strikes [in Syria and Iraq] is a lie", he said.
This is futile, he said, "because their supporters have infiltraded the population, they are financed and have access to weapons and religious indoctrination."
ISIS, genocide, and us
Western politicians seem to fear that naming the genocide of Christians for what it is, or treating Christian refugees as refugees, will be taken as a gesture of disrespect for Islam.
February 17, 2016 01:25 EST by
George Weigel
(Photo illustration: us.fotolia.com | fusolino)
my source: Catholic World Report
The Monuments Men was a disappointing movie, but one of its most chilling scenes sticks in my mind as an analogue to the appalling wickedness underway in the Middle East.
In the film, SS Colonel Wegner supervises the destruction of art works plundered by the Nazis: treasures intended for Hitler's fantasized Fuehrer Museum in Linz, Austria. But as the Allies close in on Germany in 1945, Hitler decides that, if he and his goons can't have these masterpieces, their rightful owners – and the future – won't have them, either. So Wegner and an SS squad armed with flamethrowers incinerate painting after painting, including Raphael's Portrait of a Young Man. Colonel Wegner, we learn later, was an extermination camp superintendent before he got busy destroying paintings.
The Nazi destruction of stolen was an act of gratuitous violence against Europe's cultural heritage, undertaken in service to a demented ideology – the corollary, in the field of culture, of the far more wicked Nazi slaughter of Jews, Slavs, Gypsies, the mentally ill, and all those who fell under the category of Lebensunwertes Leben: "life unworthy of life." Similarly gratuitous destruction of ancient cultural centers and artifacts is now underway wherever the black flag of the Islamic State, ISIS, is raised in Iraq and Syria. And so is another genocide, this time of Christians.
The jihadists of ISIS routinely tear the crosses and bells from Christian churches in areas under their control, even as they hammer Christian images and statues into dust, desecrate Christian tombs, and do everything possible to destroy the artifacts of a Christian civilization that dates back to the days of the apostles. But, as with the Nazis, even greater evils are visited upon people. In ISIS-controlled areas, Christians are murdered by beheading or crucifixion for refusing to convert to Islam. Rape, regarded as a religious benefice by maniacal barbarians who "pray" before and after violating their Christian victims, is a routine occurrence in these ISIS enclaves, from which Christians are also sold into slavery, including sex-slavery.
The most recent cultural outrage to come to light was Islamic State's demolition of the vast stone monastery of St. Elijah in Mosul. As the indefatigable human rights campaigner Nina Shea wrote, the monastery, a house of Christian worship for a millennium and a half, was "reduced to rubble" by the "determined application of sledgehammers, bulldozers, and explosives." But as Ms. Shea went on to note, the wanton destruction of a sacred place is also a metaphor for "the genocide of Iraq's Christian people and their civilization."
Martyrdom is a daily fact of life wherever the black flag of ISIS stains the Mesopotamian sky. Those Christians who can flee have done so. Yet they cannot take shelter in U.N.-run camps, where they are often targets of Muslim violence. And the U.S. State Department treats Iraqi Christians fleeing ISIS to autonomous Kurdistan as "internally displaced persons" who have no claim to resettlement. So the Iraqi Christians are stuck in ramshackle, Church-run camps or housing, stateless in fact if not in law, and increasingly desperate: for in Kurdistan they cannot legally work, drive, or open bank accounts. Which means they have, literally, no future.
Many Iraqi Christian leaders are pleading with western countries to accept their people along with their priests, so that these Christians can rebuild their lives and save their culture. Thus far, the West has been craven and cruel in its response: Nina Shea reports that the U.S. State Department even sent one Iraqi girl, brought to the U.S. by the Knights of Columbus for a life-saving operation, back to Kurdistan, although she has relatives in Arizona.
Which takes us back to the era of The Monuments Men. Then, Franklin Roosevelt and Winston Churchill both declined to prioritize Jewish refugees from Nazism, for fear of offending anti-Semitic elements in the political coalitions they led. Today, western politicians seem to fear that naming the genocide of Christians for what it is, or treating Christian refugees as refugees, will be taken as a gesture of disrespect for Islam.
This is shameful. The shadow that their decisions in the 1930s and 1940s now cast over the historical reputations of Roosevelt and Churchill should stand as a warning to western political leaders today.
The number of Christian martyrs has tripled in two years.
Cross of the Martyrs. Credit: Aaron Groote via Flickr (CC BY-NC-SA 2.0).
Washington D.C., Jan 15, 2016 / 04:03 pm (CNA/EWTN News).-
In 2013, there were some 2,100 Christians killed for faith-related reasons across the globe. Last year, that number rose to at least 7,100, according to a recent report from an advocacy group.
"The persecution of Christians is getting worse – in every region in which we work – and it's getting worse fast," Lisa Pearce, CEO of Open Doors UK and Ireland, said in the group's 2016 report. "Many countries have dropped down the list, not because persecution there is decreasing, but simply because others are getting worse faster. And it wasn't good three years ago."
"We can and must be strenuous in protecting Christians and all others facing persecution for their faith," Pearce added.
Open Doors has worked to help persecuted Christians for over 60 years. It was founded by a Dutchman known as Brother Andrew. He smuggled Bibles into Eastern Europe at a time when communist regimes severely restricted Christianity and other religions.
The organization works in 60 countries. Each year, it compiles instances of anti-Christian persecution and evaluates the global situation.
The latest report found that anti-Christian persecution reached a new peak in 2015, with thousands more people killed for faith-related reasons. About 4,000 Christians were killed in Nigeria, over 1,200 in the Central African and over 700 in Chad throughout 2015.
In addition, over 2,400 churches were attacked or shut down for faith-related reasons, the Open Doors report said.
Open Doors' World Watch List evaluates Christian persecution in the world's countries and ranks the worst 50. The worst 10 countries on the 2016 list are North Korea, Iraq, Eritrea, Afghanistan, Syria, Pakistan, Somalia, Sudan, Iran and Libya.
North Korea, a communist state, is still the country where it is most difficult to be a Christian, the group found. It has about 300,000 Christians in a population of 24.5 million. The country has headed Open Doors' watch list for 14 years.
News from the isolated country is difficult to confirm. However, Open Doors said the country's leadership sees Christianity as "deeply Western and despicable."
"Christians try to hide their faith as far as possible to avoid arrest and being sent to a labor camp. Thus, being Christian has to be a well-protected secret, even within families, and most parents refrain from introducing their children to the Christian faith in order to make sure that nothing slips their tongue when they are asked."
In Iraq, hundreds of thousands of Christians have fled their homes for fear of violence, especially from ISIS.
"Iraq has suffered from years of structural uncertainty, conflict and instability under a government incapable of enforcing the rule of law and providing a minimum of security," Open Doors said.
In Eritrea, there are about 2.5 million Christians out of a population of 6.7 million.
"The Eritrean regime is absolutely authoritarian and intolerant towards any form of association, dissent and free expression," Open Doors commented.
The government aims to control all religious institutions and has deposed the Eritrean Orthodox Patriarch. The country has consistently supported the rise of radical Islam in the region, including arming the Islamist extremist group Al-Shabaab.
The Open Doors watch list cited several trends worsening anti-Christian persecution.
These trends include the expansion of self-styled Islamic caliphates, who now operate across international borders. Governments who fear Islamic extremism respond by working to increase nationalist sentiment or they tighten rules and increase surveillance over religious expression. In addition, some Muslims are becoming stricter out of fear of extremist takeovers or ISIS sleeper groups.
According to the report, the Middle East, Africa and Central Asia were the fastest growing areas of persecution. More states suffer lawlessness, which means minorities there suffer more violence. Religious extremism, including Islamic, Hindu and Buddhist extremism, is the greatest source of anti-Christian persecution. The report blamed tribal antagonism as well as churches that do not want to recognize Christians of other denominations.
Mexico ranks 40th on the list, while Colombia ranks 46th. They are the only countries in the Americas to appear on the list. Open Doors said that drug trafficking is largely at the root of anti-Christian persecution in Latin America. Local church leaders are often the only ones who will oppose drug traffickers, but then become targets for violence and extortion.
"There is always hope, and yet we are in unmarked territory – the pace and scale of persecution of Christians is unprecedented and growing fast. We should not expect that to change unless we are part of changing the situation," Pearce said.
She found hope in areas where Christian churches grow despite persecution. In countries like Syria, Christian communities care for their Muslim neighbors. In places like Mandera, Kenya, Muslims opposed anti-Christian attackers, saying, "You kill all of us or none of us."
HELP PERSECUTED CHRISTIANS IN THE MIDDLE EAST FOR LENT
New Haven, Conn., Feb 10, 2016 / 07:12 pm (CNA).- A gift of 40 dollars in Lent could help persecuted Christians and other refugees in the Middle East, thanks to the latest appeal from the Knights of Columbus.
"During the Lenten season, we recall Christ's suffering and death," Knights of Columbus Supreme Knight Carl Anderson said Feb. 9. "In turn, remembering and assisting those who are today suffering and dying for their belief in Christ is an excellent way to do good where it is most needed and to enter more deeply into the spirit of this season."
Anderson noted the traditional Lenten habit of making sacrifices. He said the Knights of Columbus wanted to provide "an opportunity for their sacrifice to make a difference – not only in their own life, but in the lives of others."
The Catholic fraternal order is promoting its "40 Bucks for Lent" donation campaign using the hashtag #40BucksForLent to benefit its Christian Refugee Relief Fund.
The Knights of Columbus began the relief fund in 2014. It has raised nearly $10 million for persecuted Christians and other religious minorities, particularly those from Iraq and Syria fleeing the violence of ISIS.
The fund helps provide housing, food, medical aid, education and other relief. In 2015, the Knights of Columbus helped bring a young Iraqi girl to the U.S. so she could receive specialized medical care.
The fund also supports efforts to raise awareness about the refugees' situation through television commercials and news stories.
Anderson has testified on Capitol Hill about the refugee situation. He has also joined other U.S. leaders in asking the U.S. State Department to recognize the persecution of Middle Eastern Christians as genocide.
The Knights of Columbus has nearly 1.9 million members worldwide.
Donations to the refugee relief fund are tax deductible. The Knights of Columbus said that 100 percent of all donations support humanitarian assistance and awareness raising efforts.
The Christian Refugee Relief Fund's website is at
http://ChristiansAtRisk.org.
A HIGHLY INFORMATIVE AND INTERESTING PODCAST (Vatican Radio):