Icon of the 21 Coptic Christians beheaded in Libya in February 2015
It is especially important that we mark the anniversary of the brutal murder of the 21 Coptic Christians in Libya a year ago, not only to keep them in our memory, but to remember and advocate for all those who continue to face persecution in the Middle East. What is happening to Christians and minorities in the region is nothing short of Genocide and we must not stand by and watch as whole communities are eradicated. These 21 Coptic Christians who lost their lives are testimony to the strength of Faith and courage of many Christians around the world, but are also a reminder that we all have a role to play in safeguarding those suffering religious persecution and gross violations of their basic human rights.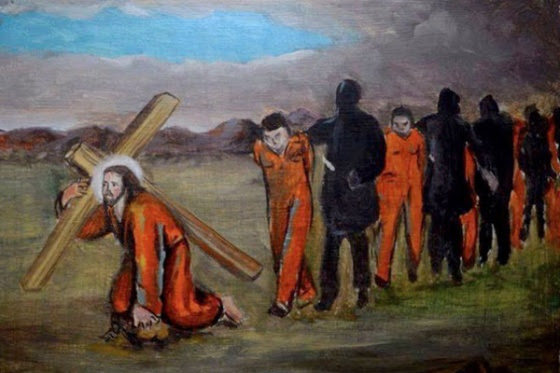 Coptic martys
On February 12, 2015, ISIS - Daesh - released a report in their online magazine Dabiq showing photos of 21 Egyptian Coptic Christians - migrant workers - that they had kidnapped in the city of Sirte, in Libya, and whom they threatened to kill to "avenge the [alleged] kidnapping of Muslim women by the Egyptian Coptic Church".The men, who came from different villages in Egypt, 13 of them from Al-Our, Minya Governorate, had been kidnapped in Sirte in two separate attacks on December 27, 2014, and in January 2015.
coptic martyrs
On February 15, a five-minute video was published, showing the beheading of the captives on a beach along the southern Mediterranean coast. A caption in the video called the captives the "people of the cross, followers of the hostile Egyptian Church" In the video one of the killers in camouflage declared in North-American English:
"Oh people, recently you've seen us on the hills of Al-Sham [Greater Syria] and on Dabiq's Plain, chopping off the heads that had been carrying the cross delusion for a long time..."
After beheading the hostages, the speaker finally declares "We will conquer Rome, by Allah's permission," pointing his knife toward the sea. As in other ISIL videos, the captives wore orange jumpsuits, intended as a reference to the attire of Guantanamo prisoners.The leader of the squad performing the killings was identified as a Libyan expatriate who calls himslef Al Qaqa'a Ben Omro.
President Sisi of Egypt announced a seven-day period of national mourning and in a televised address, al-Sisi declared his country reserved the right for retaliation.
On February 21, 2015 Pope Tawadros III, the head of the Coptic Orthodox Church announced that the 21 murdered Copts would be commemorated as martyr saints, on the 8th Amshir of the Coptic calendar, which is February 15 of the Gregorian calendar.
After the beheadings, the Coptic church released their names, and it was later learned that the 21st martyr was named Mathew Ayairga and that he was from Ghana. Originally a non-Christian, he saw the immense faith of the others, and when the terrorists asked him if he rejected Jesus, he reportedly said, "Their God is my God", knowing that he, too, would be killed.
Matthew-Ayairga-beheaded-Ghana-ISIS (1)
On Wednesday February 10th, 2016, Ash wednesday, a Service of Commemoration to mark the killing of the 21 Christian Coptic Martyrs was held in the Crypt chapel of Our Lady Undercroft, in the Houses of Parliament. The Service was led by His Grace, Bishop Angaelos, and the Service Booklet contained messages from HRH the Prince of Wales , the Archbishop of Canterbury and the Prime Minister.
Copts pray in the burnt husk of a church
Meanwhile, Egyptian Christians have been rebuilding their churches which were desecrated in an orgy of violence.
Below, please find the most recent list of names of the 21 New Martyrs of Libya for use in prayers and publications.
Milad Makeen Zaky
Abanub Ayad Atiya
Maged Soliman Shehata
Youssef Shukry Younan
Kirollos Boshra Fawzy
Bishoy Astafanous Kamel
Samuel Astafanous Kamel
Malak Ibrahim Sinyout
Tawadros Youssef Tawadros
Gerges Milad Sinyout
Mina Fayez Aziz
Hany Abdel Mesih Salib
Samuel Alham Wilson
Ezzat Boshra Naseef
Luka Nagaty Anis
Gaber Mounir Adly
Essam Baddar Samir
Malak Farag Abrahim
Sameh Salah Farouk
Gerges Samir Megally
Mathew Ayairga (from Ghana)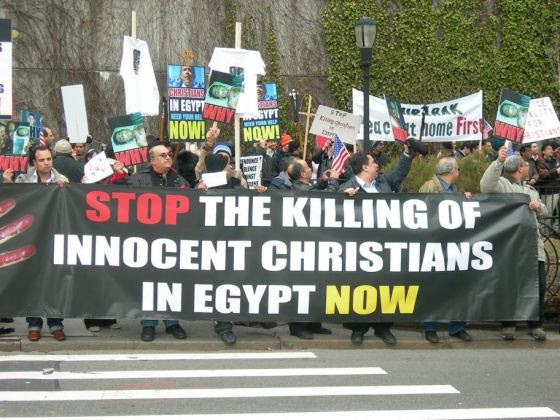 Egypt's Copts are under daily attack
Embracing the Cross
an extremely important video
"
Can Catholics recognise the 21 murdered Coptic Christians as martyrs?"
The 21 Coptic Martyrs are role models for all Christians and a Catholic heart wants to honour them as such.
The murder of the 21 Coptic Christians in Libya by ISIS has raised the issue for Catholics as to whether we can acknowledge them as martyrs as the Copts have done. The SSPX and the Josias blog, for instance, contend that the Copts are heretics and schismatics. The Josias asks if a Copt being murdered by a militant anti-Christian "for his Christian profession, would… suddenly… [be] a good Christian? Would it gain him entry into heaven and blot out his sins?"
First, are Copts actually heretics? After the Council of Chalcedon in 451 the Copts, with other Oriental churches, were cast out as monophysite heretics. As so often happens, the argument was more about vocabulary than substance. The Copts formally rejected monophysitism, but they explained their orthodox view of the two natures of Christ with a vocabulary different to Chalcedon's.
However, the issue is dead. In 1988 the Catholic and Coptic Churches issued an Agreed Statement which affirmed the orthodox understanding of Christ. After another agreed Christological statement, in 1994 with the Assyrian Church of the East, it became possible for members of either Church to receive Communion in the other under certain conditions. Could not the same arrangement could be made with the Copts?
Yet perhaps we can be bolder yet. When I discussed these martyrs with Graham Hutton, chairman of Aid to the Church in Need, we addressed Pope Francis's recent reference to an "ecumenism of blood" that unites Christians. He has not developed it theologically, which leaves the way for theologians to take this up and run with it.
So we took this ecumenism of blood a little further in light of the ancient doctrine of baptism by blood, which holds that the unbaptised who die for Christ are baptised by their death. So could it be possible to speak of an absolution by blood, by which a Christian's dying for Christ would absolve any grave sins, even those of schism or even heresy? Pope Francis implies this when he said a few days ago that…
[T]he blood of our Christian brothers and sisters is a testimony which cries out to be heard… It makes no difference whether they be Catholics, Orthodox, Copts or Protestants. They are Christians! Their blood is one and the same. Their blood confesses Christ. This is not to minimise differences, nor to turn a blind eye to them. However, in dying for Christ do such divisions among Christians retain real relevance? In dying for Christ one has become the perfect disciple, and enters a real communion with Christ's Body in heaven.
The Coptic Church has acclaimed the 21 victims as martyrs by inserting them into their liturgical calendar (February 15), much like our own equivalent canonisation. Pope Francis has informally though publicly called them martyrs. Theologians need urgently to investigate the possibility of an ecumenism by (or in) blood, as well as an absolution by blood. This seems authentic ecumenism, acknowledging difference, yet also respecting the highest form of Christian discipleship.
The 21 Coptic Martyrs of Libya are role models for all Christians, and a Catholic heart wants to honour them as such. Could we not join the Copts in calling on their martyrs' intercession before God in whose presence, surely, they now dwell, eternally?
Nothing builds the Church like the blood of martyrs. The 21 Coptic Martyrs of Libya may offer a path to the renewal that the struggling Western Church so sorely needs.