A HAPPY AND HOLY CHRISTMAS TO YOU ALL
from the Monastery of the Incarnation,
Pachacamac, Lima, Peru.
This site will be added to over the following days. You ain't seen nothing yet!!
SATURDAY, December 20th:
collect
Our Lord and God, who so arranged things that the immaculate virgin Mary should give flesh to your Son in her womb, you who have transformed her by the action of the Holy Spirit into a temple of your divinity, grant us that, following your example, the grace to accept your designs with a humble heart. Through Christ, our Lord

.
HOMILY TO YOUNG RELIGIOUS
Today's Mass teaches us a truth of enormous importance, something that is true, not only for the Blessed Virgin, but for us as well. The story of Our Lady's annunciation that we have in today's Gospel, tells us of the very essence of a Christian vocation, of whatever shape and size, whether we are called to be pope, a bishop, a priest, a monk, or a married lay person. The prayer for today's liturgy tells us what we have in common with the Virgin Mary and with every other Christian. We, like her, have a vocation which cannot be fulfilled without the harmony between the action of the Holy Spirit, enabling us to fufill our vocation as Christians, and our own humble obedience, enabling the Holy Spirit to work in us.
Our vocation is not to do what we do, whether we are monks in a monastery, sisters working in a parish, or married layfolk. Our vocation consists in allowing Christ to work in us in what we do. It is Christ's presence in what we do that gives value to what we do. If Christ is absent from what we do, then our activity is not authentically Christian, however brilliant it may be from a merely human point of view. Our glitter may shine like the sun, but it won't be the shine of genuine gold.
Hence, our connection with Christ in prayer is not an optional extra, something to do when we have time: it is the only way to ensure that our apostolic activity is genuine, the real thing. Without prayer, without our humble submission to Christ who is our Lord, our autosufficiency takes over, and people hear our voice, but not the voice of God.
Martin Luther put a wedge between faith and works, simply because he could not see that it is Christ who works through our works, giving them value for our own salvation and for the salvation of the world. It was our error as Catholics that we did not have sufficient understanding of what it means to be member of the body of Christ to be able to point this out to him. He was right in that works without Christ are dead; but he was wrong when he believed that the activity of Christians is without Christ, "I do not live, but Christ lives in me." If we are saved by faith alone, as Luther taught, being saved involves Christ coming to live and work in us and through us, so that our own interior struggles and our witness to others acquire value as extensions of Christ's own action in the world. The Eucharist makes the Church the body of Christ, and our reception of the Eucharist makes each of us the embodiment of Christ in whatever context Divine Providence places us.
The Blessed Virgin Mary is our model. In her Christian vocation, she became Mother of God when she said, "Behold the handmaid of the Lord. May it be done to me according to your word." At that moment, she became Mother of God, and God and his creation became one in the person of Jesus Christ. By Christ's death and resurrection and his ascension into heaven, we have the same choice as she had. A messenger of the Lord says to us, "The body of Christ," and we say, "Amen" as she did; and, like her, we receive our blessed Lord. We have chosen the way of humble obedience, and he lives in us and we in him; and we participate in Christ's activity for the salvation of the whole world.
Let us pray to God that, through the intercession of the Blessed Virgin Mary, we may be humble enough and obedient enough to partipate in the wonderful plan of God to unite the whole of creation to himself.
Gospel LK 1:26-38
The angel Gabriel was sent from God
to a town of Galilee called Nazareth,
to a virgin betrothed to a man named Joseph,
of the house of David,
and the virgin's name was Mary.
And coming to her, he said,
"Hail, full of grace! The Lord is with you."
But she was greatly troubled at what was said
and pondered what sort of greeting this might be.
Then the angel said to her,
"Do not be afraid, Mary,
for you have found favor with God.
"Behold, you will conceive in your womb and bear a son,
and you shall name him Jesus.
He will be great and will be called Son of the Most High,
and the Lord God will give him the throne of David his father,
and he will rule over the house of Jacob forever,
and of his kingdom there will be no end."
But Mary said to the angel,
"How can this be,
since I have no relations with a man?"
And the angel said to her in reply,
"The Holy Spirit will come upon you,
and the power of the Most High will overshadow you.
Therefore the child to be born
will be called holy, the Son of God.
And behold, Elizabeth, your relative,
has also conceived a son in her old age,
and this is the sixth month for her who was called barren;
for nothing will be impossible for God."
Mary said, "Behold, I am the handmaid of the Lord.
May it be done to me according to your word."
Then the angel departed from her.
>>
Listen to the unexpected
Mary McGlone | Dec. 20, 2014 Spiritual Reflections
my source: National Catholic Reporter
Blessed Fra Angelico produced various depictions of today's Gospel story of the Annunciation. Although the 15th-century Dominican painter created significant variations on the same scene, it is said that he never retouched his paintings because, like the iconographers of Eastern Christianity, he believed that he produced them under divine inspiration; thus, they should not be changed.
Fourth Sunday of Advent
2 Samuel 7:1-5, 8b-12, 14a, 16
Blessed Fra Angelico produced various depictions of today's Gospel story of the Annunciation. Although the 15th-century Dominican painter created significant variations on the same scene, it is said that he never retouched his paintings because, like the iconographers of Eastern Christianity, he believed that he produced them under divine inspiration; thus, they should not be changed.
Fourth Sunday of Advent
2 Samuel 7:1-5, 8b-12, 14a, 16
Psalm 89
Romans 16:25-27
Luke 1:26-38
Fra Angelico's "Annunciation of Cortona" offers a telling commentary on today's Gospel about Gabriel's mission to Mary of Nazareth. It is filled with symbols of sacred history. One striking element is that the artist linked Mary and the angel by writing the words of their conversation in the space between them. The angel's declaration that the Holy Spirit will come upon her is straightforward, but her response, "Behold the handmaid of the Lord, be it unto me according to thy word" is written upside down and backward. Whatever Fra Angelico's intent, that depiction portrays something fundamental about the implications of the human response to God's invitation.
Gabriel's message to Mary was anything but expected or predictable. In spite of what legends have added to her story, the Gospel tells us nothing of her background or personality, not one word about her piety or righteousness. We know nothing more than that she was a young woman, engaged to a man named Joseph and living in a little-known town 90 miles from Jerusalem. The only thing that singles her out is that God was with her, that she had found favor in God's sight. It was all God's doing.
What then was her role? It is as simple and profound as the Latin word fiat (may it be done). That is the same word we find in Genesis 1 when God creates the world. Fiat lux is "Let there be light." Here we have Mary echoing the creative word of God, making possible what had never happened before. And yet, the dialogue Luke provides shows that Mary did not consider herself capable of carrying out the angel's prediction; only after hearing that God would overshadow her and the Holy Spirit come upon her did she pronounce her "fiat." She spoke not from a position of ability, but of availability. Fra Angelico depicts the effect all of this would have on her life by painting her words upside down and backwards.
From the moment Mary spoke those words, her life was irrevocably changed. She had given herself over to God's designs in a way that no other person had ever been asked to do. Her very life was to be turned upside down. She could no more anticipate the implications of her fiat than one can make sense of their painted depiction without a mirror.
Here we have the crux of today's readings. God invites humanity to be available. We are to cultivate our attentiveness and generosity so that we can hear well and be open to what God hopes to do through us, even though it may seem unimaginable, much less fit our plans.
In our first reading from 2 Samuel 7, David has conceived a great scheme to build a temple. It sounded like a great plan, a generous act of public praise, and the prophet Nathan told him to go for it. But, after a nighttime encounter with God, Nathan returns to tell David, "I was wrong, and so were you."
David's plan was a great one, but that was the problem: It was his plan, not God's.
David had to abandon his plan for God's earthly dwelling because it was not big enough. God could not be confined in a structure of stone and cedar. The God who had accompanied Israel through the Exodus willed to remain present through living people, through any who would hear the word of God and say "fiat."
What do these readings say to us as we prepare for Christmas? Both of them remind us of God's desire to dwell in the midst of humanity. They speak of being open to God's unforeseeable plans. Blessed Fra Angelico preached with paint that Mary was available; she allowed her life to be turned inside out in response to God.
Contemplating Mary and David, the simple woman and the powerful king, we see that the key to discipleship, the essence of being servants of God, lies very little in the plans we make or the gifts we would give to God. The message for us, as for Mary, is that God continues to want to do what has never been done before, and that can happen only to the extent that we are willing to listen to the unexpected and to put our very selves at the disposal of God's plan. Then, we can pray the prayer Mary very likely taught Jesus: "Thy will be done."
[Mary M. McGlone is a Sister of St. Joseph of Carondelet. She is a freelance writer and executive director of FUVIRESE USA, a charitable foundation that supports work with people with disabilities in Ecuador.]
The Welsh poet Dylan Thomas was born a hundred years ago in October. This video is based on one of his poems:
Here he recites the poem himself:
But my favourite Christmas poem is by Sir John Betjeman. I cried when I first heard the last verse. Silly me!
Here are some Orthodox articles that follow the same line of thought as my homily and the article by Sister Mary McGlone. They are first rate.
Father Stephen Freeman on
by Father Alexis Trader, a monk of Karakalou Monastery on Mount Athos.
Sorry about keeping on about this: It is not what we do that is important, but what Christ does in what we do through the Holy Spirit and how much room we allow for Christ to act in our heart, to what extent it is true that we do not live, but Christ lives in us. The basic ingredients of the Christian life in us, as it was with the Blessed Virgin in the Annunciation, is the action of the Holy Spirit in synergy with our humble obedience. This is the difference that Christmas should make in our lives.
CHRISTMAS TRUCE ON CHRISTMAS EVE 1914
On December 7, 1914, Pope Benedict XV suggested a temporary hiatus of the war for the celebration of Christmas. The warring countries refused to create any official cease-fire, but on Christmas the soldiers in the trenches declared their own unofficial truce.
Starting on Christmas Eve, many German and British troops sang Christmas carols to each other across the lines, and at certain points the Allied soldiers even heard brass bands joining the Germans in their joyous singing.
At the first light of dawn on Christmas Day, some German soldiers emerged from their trenches and approached the Allied lines across no-man's-land, calling out "Merry Christmas" in their enemies' native tongues. At first, the Allied soldiers feared it was a trick, but seeing the Germans unarmed they climbed out of their trenches and shook hands with the enemy soldiers. The men exchanged presents of cigarettes and plum puddings and sang carols and songs. There was even a documented case of soldiers from opposing sides playing a good-natured game of soccer.
Some soldiers used this short-lived ceasefire for a more somber task: the retrieval of the bodies of fellow combatants who had fallen within the no-man's land between the lines.
The so-called Christmas Truce of 1914 came only five months after the outbreak of war in Europe and was one of the last examples of the outdated notion of chivalry between enemies in warfare. It was never repeated—future attempts at holiday ceasefires were quashed by officers' threats of disciplinary action—but it served as heartening proof, however brief, that beneath the brutal clash of weapons, the soldiers' essential humanity endured.
During World War I, the soldiers on the Western Front did not expect to celebrate on the battlefield, but even a world war could not destory the Christmas spirit.
BACK TO NOW AND FROM PERU, THE CHRISTMAS DRAMA CONTINUES!!
WHAT IS A CHRISTIAN & WHAT THIS HAS TO DO WITH CHRISTMAS.
A Talk Given to the Monastic Community in Pachacamac.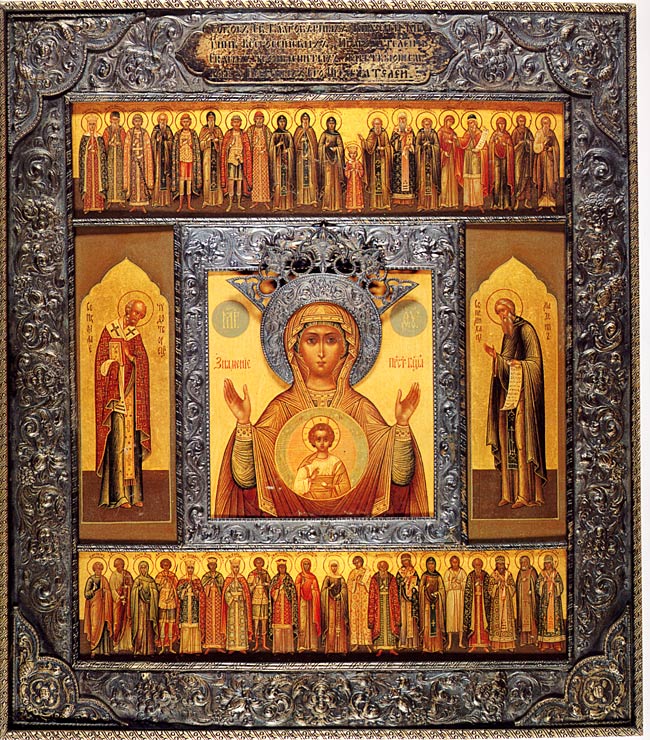 If I should be asked, "What is a fish?" it is not enough to say that it lives and breathes under water, because there are other creatures that do this without being fish. If I were asked, what is a Christian, it is not enough to describe how he behaves. You will discover that many other people behave in the same way without being Christian. If you follow that line, then you will inevitably come to the conclusion that Christianity is not unique. To say that is like saying that otters, seals and whales are really fish because they live and breathe under water! No. We must look deeper. I believe that nothing illustrates better the essence of Christianity than the above icon. It is called "Our Lady of the Sign", the sign being the pregnant woman in cgapter 12 of the Apocalypse; but the icon is also a sign of what it means to be a Christian.
There are two stages in the presence of the divine Logos in the Blessed Virgin Mary. The first is his presence from the first moment of her conception. It was the presence of him who enlightens every man and woman who comes into the world. Of course, with her, the Logos had a special relationship with his future mother. If, as Duns Scotus held to be true, the Incarnation is the central and unique event that fulfills the divine purpose in creating anything at all, then Mary, as Christ's mother, was in God's plan before anything was created because the Incarnation needed a mother in whose womb Creator and creation were united in one Person. Nevertheless, although she was pre-eminent, she was not unique; although she was holy, the holiest person so far existing, it was an Old Testament holiness, the holiness that was produced by an Old Testament relationship with God, of a kind that made Moses' face shine, but not that which transfigured Christ; a holiness that came from God coming among his creatures, not that which arises when creatures share the very life of God. This icon illustrates the second stage of the presence of the Logos in Mary, the stage that began at the Anunciation. In her womb, Christ is present, body, blood soul and divinity, as we learned in the catechism, the presence of that unique Individual whose love embraced the whole of humankind and, indeed, the whole of crreation, who would , one day, unite all things to himself. It is the holiness of the Mother of God. It began with her hearing the proclamation of the Good News by the angel Gabriel and her humble acceptance in obedience, "Behold the handmaid of the Lord. May it be done to me according to your word."
Let us look at the icon a moment. On either side of her are two cherubim because she is the new ark of the covenant where God dwells among his beloved human race. The Father sends his Son into her womb and, through his human nature, there is present the eternal interchange of divine love, and the Holy Spirit forms him and also unites him to all human beings of all times and places. He is united to them, but they are not yet united to him: that will need his life, death, resurrection and ascension, and he becomes universally available at Pentecost. He will become available through Christian faith and most especially through the Eucharist. Her hands are raised in prayer and form the silouette of a chalice: she becomes the cup in which the eucharistic presence of Christ is offered to everyone. Then we too become what Mary became at the annunciation, bearers of Christ in the fulness of his divine and human natures: At that time, Mary, the first of the Christ-bearers, becomes what the Church was to become later and what each of us becomes as member of the Church. Her icon becomes our icon, each and every one of us..
"He who eats my flesh and drinks my blood, I live in him and he in me," says Our Lord. God's messenger proclaims the Good News, "The body of Christ," after we have been taken up into his sacrifice, and we answer, "Amen" which means what Mary meant when it happened for the very first time in Nazareth; and we receive into ourselves the living Christ, whole and entire. THAT is what a Christian is, and is the reason why Christianity is unique: a christian is someone in whom Christ dwells. "I do not live, but Christ lives in me," says St Paul. Or as many of the Fathers said, "God became man so that man can become God."
"How can that be, because we are mere human beings?"
"You will be baptised in the Holy Spirit, and you will eat my body and drink my blood and shall have life in you, and you shall dwell in me and I in you."
That is being a Christian: it is a vocation to do the impossible. The more we try, the more impossible it is seen to be. But what is impossible for man is possible for God. We are commanded to love our enemies because God is Love, which is only o.k until we really get enemies. We are commanded to give liberally to all who ask, because God is all Gift, which is o.k. until we are asked for something we really want to retain. We are commanded to love God with our whole mind and strength, and that point is a horizon that constantly seems further and further out of reach. As we try, time and time again, and fail, so we become humble; and the more humble we are, the more we rely on God; and, as we come to rely on God, little by little, he works through us, and what is impossible for us, we find he can do in us and through us. Prayer, even the mute presence of people who are trying to pray but can't,
is essential to this process: and the humbler we are, the nearer we are coming to God as we die to ourselves: "Lord Jesus, Son of the living God, have mercy on us," until the definitive moment when our life folds up completely in death, and we are saved.
This "little way", as St Therese called it, the way of humility is lived, not only for ourselves, but for the whole human race; because Christ did not just die for Catholics, but for all; and just as there was a continuity between the Old Testament holiness in the Blessed Virgin, and its fulfilment in her life as a Christian, so there is a continuity between the presence of the Logos in all human beings and the particular presence of Christ in the Christians. Christ unites us to all human beings and we in our eucharistic life represent them before the Father, so that, when they meet Christ in this life or the next, they will realise they have already met him in us.
At Easter we celebrate our salvation through the death and resurrection of Christ. At Christmas we celebrate the Incarnation which made all this possible and which provides Christian holiness with its particular quality as we share in the actual body of Christ.
How Big Is Your Christmas?
Fr. Stephen Freeman (Orthodox)
my source: Glory to God for All Things
We have entered the days when news pundits are asking, "Will Christmas be big this year?" When individuals ask one another, "Are you having a big Christmas this year?" It is understoood that economics are involved (as with the media). Our modern economies are greatly dependent on the massive buying that occurs between late November and late December. Christmas shopping is so good for the economy (as presently constituted) that if Christ were not so conveniently born, we would need to come up with another excuse for giving gifts.
However, though the world's economic system seems to hang in the balance over the generosity of two months spending, this is a very little thing about Christmas. My favorite summation of Christmas (and the Incarnation as a whole) is from St. Maximus the Confessor: "The Incarnation of the Word is the cause of all things."
This wonderfully paradoxical statement, notes that "all things were made by and for him, etc." St. Maximus reads these words as referring to the Incarnate Christ and not to the pre-incarnate Word. It turns history inside out and establishes the incarnation of Christ as more than a temporary skirmish to free us from our temporary bonds. It is the act of God who truly completes His creation in His Pascha. The words, "It is finished," are the words of the Creator over the whole of His creation. He foretold this, "If I be lifted up from the earth I will draw all men unto myself." This is echoed in a more cosmic sense in the words of Ephesians' first chapter:
having made known to us the mystery of His will, according to His good pleasure which He purposed in Himself, that in the dispensation of the fullness of the times He might gather together in one all things in Christ, both which are in heaven and which are on earth– in Him. (Eph 1:9-10)
Christmas, as the feast which celebrates the incarnation of Christ (as does the Annunciation), is the feast of the beginning of all things, and the feast of the end of all things. It is both cause and the end of all effects. And thus we will have a "big" Christmas this year, for the gift that is given us is nothing less than creation itself. Its price was nothing less than the life of God. It's not the economy, in the way politicians think of economy. It is the oikonomia – the unrelenting love of God completing what He alone could begin and what He alone could finish.
(Quotation from "Any Questions?" a few days ago: "My Christmas begins when the voice of a single choir boy of Kings College, Cambridge, sings the first verse of "Once in David's Royal City." on Christmas Eve.)
xxxxxxxxxxxxxxxxxxxxxxxxxxxxxxxxxxxxxxxxxxxxxxxxxxxxxxxxxxxxxxxxxxxxxxxxxxxxxxxxx
please click on:
GOD BECAME MAN SO THAT MAN COULD BECOME GO
D
HOMILY BY ABBOT PAUL OF BELMONT (uk)
"Today in the city of David a Saviour has been born to you; he is Christ the Lord." The sign that the Saviour is born is "a child wrapped in swaddling clothes and lying in a manger ". The child, a new-born babe, is the sign of God's presence among us, Emmanuel "God with us". The star, the angels, Mary and Joseph, the shepherds, the kings, the ox and the ass are not the sign. No, it's the babe in the manger and all eyes are fixed on him. He is the sign and sacrament of God's presence. St Paul wrote that, "God was in Christ, reconciling the world to himself". The Christ-child is God made man and that is why we are here tonight. We have come to worship and adore.
What does it really mean to worship God, to adore the Christ-child? In the second reading, St Paul says, "What we have to do is to give up everything that does not lead to God." Each one of us knows the things we must give up. Now Christmas is really about Christ's Second Coming, rather than the commemoration of his Birth, though this is what we overemphasise in our enthusiasm for cribs, carols and Christmas cards. St Paul tells us to "wait in hope for the blessing which will come with the Appearing of the glory of our great God and saviour Jesus Christ". Mind you, many of the carols we sing do get it right and see the Nativity in the light of Christ's Death and Resurrection and his Coming again in glory on the last day.
In the meantime, and that is what life on earth really is, a meantime, a waiting room, our sole purpose should be "to have no ambition except to do good". Life only has meaning when we ourselves live out that "justice and integrity", which, we are told by the prophet Isaiah in the first reading, will be inaugurated when "a child is born for us and a son given to us", whose name is "Wonder-Counsellor, Mighty God, Eternal-Father, Prince of peace".
Today our world, more than ever in its chequered history, needs to discover God's presence in the Child of Bethlehem and, "putting aside all worldly ambition," begin worshipping God in spirit and in truth by simply being good and doing good, loving God above all else and our neighbour as ourselves. "Put Christ back into Christmas" is once again a slogan being used a lot this Christmas. Yes, by all means, let us put Christ back into Christmas, but we can only do that by putting him back into the centre of our own lives. Only then will God's kingdom come and the eternal life we hope and pray for truly begin.
On behalf of Fr Prior and the Monastic Community, I wish you all a very happy Christmas. Our thoughts and prayers are with you and your loved ones today.
FOR ME AND FOR MANY BRITISH PEOPLE, HEARING THE WORDS OF HER MAJESTY THE QUEEN ARE A FITTING END TO A WONDERFUL DAY; AND THESE WORDS HAVE BECOME EVER MORE FITTING, EVERY YEAR, AS SHE HAS GROWN INTO HER JOB. I CHALLENGE THOSE OF YOU WHO ARE REPUBLICANS TO SHOW ME ANYTHING IN YOUR COUNTRY THAT CAN EQUAL THIS END TO CHRISTMAS, AND I CHALLENGE ALL THE POLITICIANS OF EVERY PARTY IN MY COUNTRY TO COMMUNICATE TO THE ELECTORATE WITH THE SAME LEVEL OF SINCERITY THAT SHE EMPLOYS. IF THEY WERE TO DO SO, THEY COULD BE LISTENED TO WITH THE SAME LEVEL OF ATTENTION.THAT IS GIVEN TO QUEEN ELIZABETH.
IN THEORY, THE ENGLISH MONARCHY BEGAN AS A CHRISTIAN SERVICE TO A CHRISTIAN PEOPLE. i BELIEVE THAT, AS THE CROWN LOST POWER IN THE WORLDLY SENSE, SO ITS AUTHORITY GREW IN A CHRISTIAN SENSE BECAUSE DOMINATION MADE WAY FOR SERVICE. I THINK THE PAPACY COULD LEARN SOMETHING FROM THE BRITISH MONARCHY.
please click on:
FOR CHRISTMAS DAY AT BELMONT
ght="315" src="//www.youtube.com/embed/AZTZRtRFkvk" frameborder="0" allowfullscreen>