The Biography of a Martyr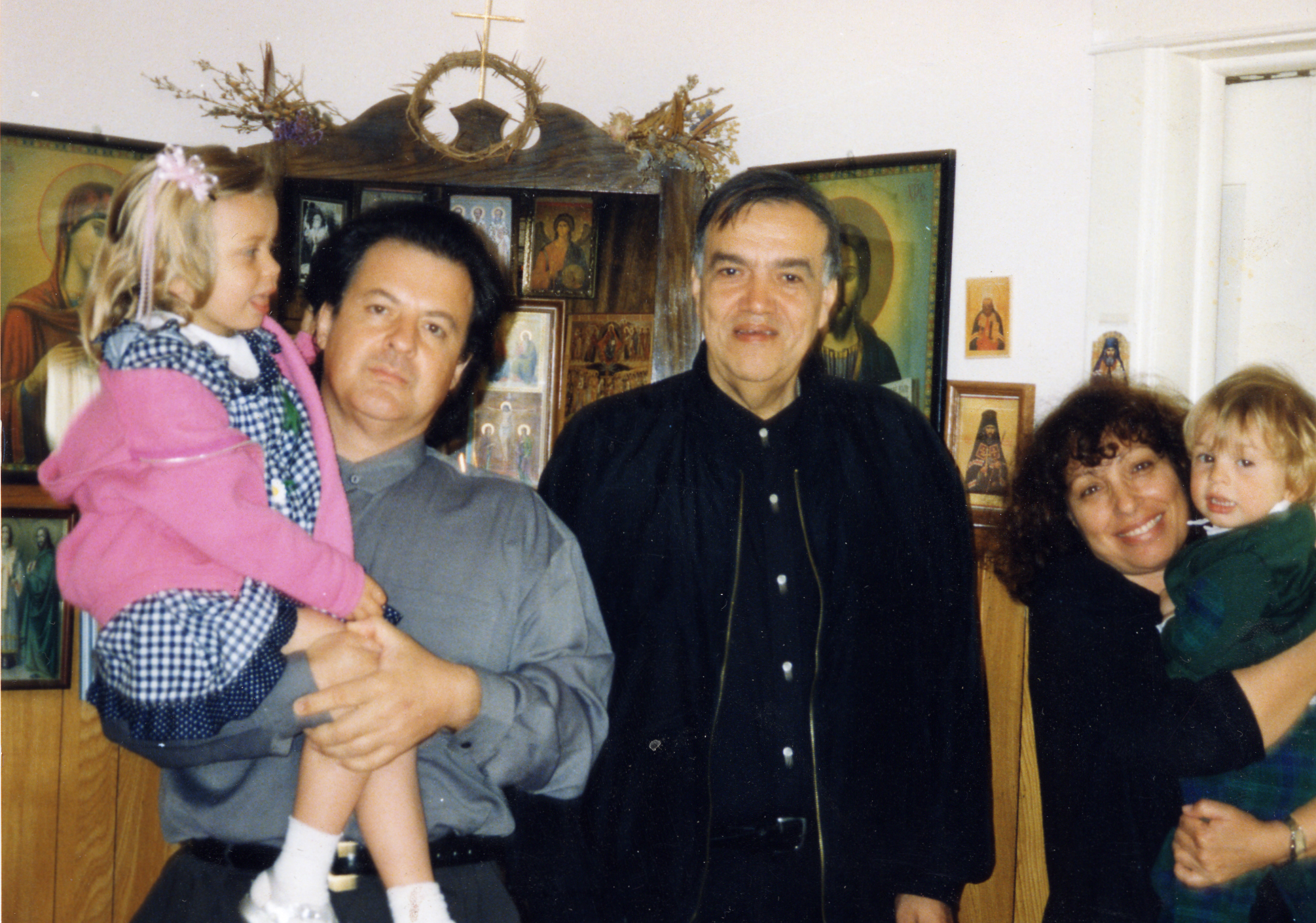 The Russian Orthodox Church Abroad was making preparations to celebrate the 15th anniversary of the Myrrh-streaming Iveron Icon of the Mother of God, when it was shaken by the news of the tragic death of the icon's guardian, Brother Joseph (José) Muñoz- Cortes. He was brutally murdered on the night of October 29/30 in a hotel room in Athens. A 20-year-old Romanian man is awaiting trial for the murder, although there is suspicion of a conspiracy. (Br. Joseph had been threatened on several occasions.) Evident marks of torture were interpreted by the media as indications of a sordid affair, setting in motion vile rumors, which only confirmed the words of the Athonite schema-abbot Clement, who had told Brother Joseph that 1997 would be a decisive year for the Icon's guardian: "...you will be subject to awful slander." But the evil one overplayed his hand. Who could believe such gross falsehood.
Brother Joseph was born in Chile in 1950, into a pious Roman Catholic family of Spanish descent. He was a boy of twelve or thirteen when, passing by the Russian Orthodox church in Santiago, he was attracted by the sound of singing and went in. There he became acquainted with Archbishop Leonty of blessed memory, and under his influence José was baptized into the Orthodox Church two years later, with his mother's consent. As a university student, José was studying theology when Metropolitan (then Archbishop) Vitaly, on a trip to Chile, learned of the youth's monastic aspirations and invited him to Canada. José lived for about a year at the metochion (a monastic affiliate of Holy Transfiguration Monastery in Mansonville) in Montreal, but the hectic life there did not suit him, and he left to live on his own, while preserving a genuine monastic disposition to the end. A talented artist, he secured a job teaching art ((watercolor) at the University of Montreal, and began studying iconography.
In the summer of 1982, Brother Joseph went to Mt Athos with a particular interest in visiting some sketes and monasteries specializing in icon painting. At the small skete of the Nativity of Christ, Brother Joseph felt an immediate and strong attraction for an icon of the Mother of God, a contemporary (1981) copy of the ancient and revered Iveron Icon. He was disappointed to learn that it was not for sale, but to his great joy, as he was leaving the skete, Abbot Clement, unexpectedly handed the icon to him, saying that it pleased the Mother of God to go with him to America. Back in Montreal, Brother Joseph began reading an akathist daily before the icon. A few weeks later, on November 25, he awoke and smelled a strong fragrance. The new icon was streaked with myrrh, miraculously emanating from the hands of the Mother of God.
For the next fifteen years, as myrrh continued to flow from the Icon, Brother Joseph devoted himself to its care, accompanying it on numerous trips to parishes all over the United States and Canada, to South America, Australia, and Europe. Everywhere, the Mother of God worked miracles, healing souls and bodies, reconciling adversaries, strengthening the fainthearted, inspiring repentance, and consoling those burdened by grief or misfortune. This applied not only to Orthodox believers, but to many heterodox as well. But where grace abounds, one can expect trials and tribulations, and the difficulties that Brother Joseph endured can only be imagined: "Come here," "Go there"; he was criticized for not doing as others wanted, he was offered fantastic sums of money for the Icon (he himself lived in monastic poverty, readily giving what he had to those in need; or he bought icons and materials for painting icons). At all times, Brother Joseph tried to be sensitive and obedient to the will of the Mother of God. He was, first and foremost, her devoted servant. He was also faithful in fulfilling the countless requests for prayers that he received, daily commemorating scores of people, among whom were several dozen godchildren.
While the sinister circumstances of his death are still unclear, it is tempting to speculate concerning the motive for such a ghastly murder; after all, the Icon was not in Brother Joseph's possession at the time. From a spiritual perspective, however, the explanation is apparent. As written in an obituary prepared by the Icon's Home: "We live in a time of great spiritual awakening, but the spirit that awakens is that of satan, and all that is of Christ, of Jesus, of God, is a goading irritant to the carnal man, inciting the infernal wrath of the deluded."
May the life and martyric death of this true warrior of Christ be for us a compelling example, and may his memory be eternal. Editor
Jose Munoz-Cortez, Brother Joseph's Last Days
In July 1997, Brother Joseph brought the Myrrh-streaming Iveron Icon to the Youth Conference in Brazil, and afterwards he came for several days to Argentina. Brother Joseph always helped us with advice and his labor in the renovation and beautification of our majestic Holy Trinity cathedral in Buenos Aires. Together with some of the parish youth, Brother Joseph sat at a table as we discussed the need to purchase material for new church coverings in preparation for the approaching centennial celebration of the cathedral's founding. Suddenly Brother Joseph turned to me. "Alex! (we had been friends long before I had been ordained to the priesthood, and that is what he liked to call me), we must go to Greece. There one can find a wide selection of materials. If you go, I'll go with you. I know where to buy such things, and I can show you. And then, if God grants, we can go to the Holy Mountain."
At first I thought he was joking, but then I noticed that he was serious. I didn't hesitate another minute. "Let's go!"
In October of this year, 1997, Brother Joseph was at the Lesna Convent for its patronal feast, the Protection of the Mother of God. He telephoned to reassure me, "Don't worry, Alex, on the 16th I'll meet you at the airport in Athens." And so he did. I came out with my bags, and there was Brother Joseph. What a joy! And what a sense of peace I had on seeing him standing there, waiting, good to his word.
We arrived at the hotel and went straightway to drink some juice and plan our itinerary. As we discussed various options, Brother Joseph remarked several times, "Greece! How wonderful it is to be in an Orthodox country!" And truly, we were so happy to be in an Orthodox environment. Never have I felt myself so at ease walking around in a cassock. Going into a cafe, we invariably found some priests already sitting there. As we sat, we saw many people make the sign of the cross and bless the food before they ate. When children came up to me on the street and asked for a blessing, Brother Joseph frequently exclaimed: "Out of the mouths of babes hath He perfected praise!"
After a brief rest, we went for a walk. As we were walking around, we met a young man, about 20 years old, from Romania. He approached Brother Joseph and asked for help, saying that he was working and living illegally in Greece, since his visa had expired. On learning that Brother Joseph lived in Canada, he asked if he could help him emigrate there. The fellow appeared very distraught and upset. We thought he must be afraid of being picked up by the police due to his illegal status. Taking pity on him, we decided to help him and to somehow encourage him. We talked to him and invited him to join us for lunch and dinner. Brother Joseph always reacted with warmth and compassion towards those in need. Little did we know at that time that this unfortunate fellow would turn out to be his murderer.
The first days were spent visiting churches and going around ecclesiastical goods stores. Walking along a street, I heard a shout from a small car: "Shosef! Shosef!" A monk got out of the car and joyfully hugged Brother Joseph. It was the abbot of the monastery of St Nicholas on the island of Andros, where there was a myrrh-streaming icon of the Mother of God. (We visited the monastery on October 29, and I will say more about this later.) The next day we had a similar encounter; this time it was with Metropolitan Vlassiy of the Roumanian Old Calendarists, some priests from our Russian Church Abroad visiting Greece from North America, Fr. Ioanniki, and other guests of Metropolitan Cyprianos, who had come to celebrate the patronal feast of the Monastery of SS Cyprian and Justina. They invited us to the monastery for the Sunday service, and that is where we went.
We arose early in the morning and drove to the monastery. Vladika Ambrose invited me to serve. I felt rather awkward, since the service was conducted in Greek, of course, and, although I had studied Greek in seminary, I understood very little. But my hesitation evaporated when I saw Vladika Evtikhi of Ishim and Siberia. I asked his blessing and did not notice when Brother Joseph was invited up front. He always tried to avoid drawing attention to himself, but the people noticed him and immediately began asking where the icon was. On learning that the icon was not with us, they led Brother Joseph to an honored place next to Vladika Cyprianos' cathedra. There he remained for the duration of the service. We later joked, "Despota, kyrios Joseph. Evlogite!" (Master, Lord Joseph, bless).
That evening, the Synod of Metropolitan Cyprianos organized a gathering in the city, to which we were also invited. A simultaneous translation of the proceedings was available in various languages: Russian, English, Georgian and French. Lectures were read, children sang folk songs... We should mention that these same children-and there were quite a few-sang on the cliros at the morning service. Brother Joseph remarked on this several times, evidently pleased. "Did you hear," he said to me, "with what energy, joy and love these children sang? Now that is pure prayer!"
On Monday, 20 October, we left for Thessalonika, hoping to obtain permission to go to the Holy Mountain. Unfortunately, we came at an inopportune time. It was the feast of Great-Martyr Demetrios (according to the New Style), and in addition there was a major exhibition of icons from Mount Athos. You cannot imagine how many women were at the exhibit, and how many people there were in the city. Of course, the women had come because of the exhibit; it was their only opportunity to see these treasures. In front of the museum were rows of buses from Bulgaria, Serbia, and all parts of Greece, full of women wanting to see the icons. And not only to see; I saw many prayerfully crossing themselves. The icons were displayed in such a way that one could easily venerate them.
On Tuesday, we got up very early and went to the Ministry where they issue permits for going to Mount Athos. In a huge building, we found a small room with a sign on the door: Mount Athos. We entered and saw a young women, rather than the elderly woman we expected. To our surprise, she received us very respectfully, asking, in English, what it was we wanted. When Brother Joseph inquired about the possibility of going to Athos, she looked at him and replied calmly, "Until the 15th or 20th of November, there is neither place nor possibility. In order to receive permission, laymen must send us a fax and bring a written recommendation from their consulate in Greece, and then await a reply." I was purposely not wearing my cassock, as it is easier to receive a permit as a simple tourist, rather than going through a labyrinthine explanation of what jurisdiction it is I belong to. The woman, however, looked me up and down, and, in the same even tone of voice, continued, "...while clergy must have a letter of approval from the Patriarch of Constantinople." We left the office and, to console ourselves, went to have breakfast.
During this time, Brother Joseph told me about his previous trips to Mt Athos, about how, during his eight-month sojourn there, he became accustomed to sleeping very little and often keeping all-night vigil in the literal meaning of the term.
When Brother Joseph spoke about Mt Athos, it was as if he were talking about his childhood. He told me how he had learned there the "art of arts": prayer. He remembered where everything was, in what monastery.
It was amazing to listen to Brother Joseph when he was speaking about some acquaintance; he remembered everyone's name. I am not exaggerating when I say that he remembered the names of everyone he knew in North and South America, Europe and Mt Athos. And the names of people in his native Chile! How did he remember them? The answer is simple: he prayed for them daily and commemorated them all before the holy icon of the Mother of God. Brother Joseph had an extensive prayer rule: he read the canon to Jesus Christ, the canon to the Guardian Angel; he read the service for the saint of the day and sang an akathist to the Mother of God, in addition to the usual daily prayers of an Orthodox Christian (I can witness to this). In the course of our trip, we either talked on spiritual subjects, or prayed, "by the rope" as he put it.
Our breakfast that day lasted until almost noon. It was so nice to converse with him. I should add that we spoke in his native language, Spanish. This is an advantage that the Argentinean youth enjoyed with him. Never will my brother, Fr. Paul, or I forget how edifying it was to talk with Brother Joseph on any subject; ninety-nine percent of the time these were, of course, spiritual matters. He possessed a childlike innocence when it came to jokes, courage and strictness in the face of falsehood, an unassailable, pure Christian love, and zeal according to knowledge. He was among those rare individuals who does not fear to speak the truth to someone, no matter who it might be... But let me return to the account of our trip.
That day (we called it a day of consolation after being unable to secure permission to go to Mt Athos) we went to venerate the relics of the Great-Martyr Demetrios. Inside the spacious stone church were many pilgrims. /.../Usually the shrine with the relics is kept underneath a large cupola, but this time they were preparing to clean it for the feast, and we were able to kiss the shrine itself. Having venerated the relics, Brother Joseph and I went aside to pray quietly. We prayed for everyone we knew, with special attention to our hierarchs and the Synod, knowing the Synod of Bishops was meeting at this time in New York. I was about to buy some candles, when Brother Joseph handed me a bunch and went to light some candles himself before the relics of the Great Martyr.
We went next to the relics of Saint Gregory Palamas. There, too, we prayed for everyone. We were able to spend more time there; it was quiet and we were almost the only ones there.
From Saint Gregory, we went to the relics of Saint Basil the Great. There we were able to serve a moleben, to bless the crosses we had purchased, and to delight in the peace and grace of that holy place. Before the moleben, Brother Joseph made a prostration and remained with his head to the ground beneath the shrine with the Saint's relics. He then suggested I do the same, explaining that he had sensed a special grace. I did so and, indeed, felt myself to be in another world. Our disappointment at being denied access to the Holy Mountain disappeared quickly, leaving no trace...
From there we went to a church that has the relics of Saint Parasceva and Saint David [of Thessalonika-ed.] There, too, we prayed. I might note that when we entered the church, some people were vacuuming. On observing that we were not tourists but that we wanted to pray at the relics, they switched off the vacuum cleaner and allowed us to pray quietly. As we left, we could hear the vacuum running again.
In this way we came to the end of this memorable day. As I said earlier, we called it a day of consolation. Returning to the hotel, we walked in silence, interrupted only when Brother Joseph paused and, looking up at the sky, said quietly, as if confirming the cause of our silence, "How much sanctity! What enlightenment and blessing for us, sinners!" And thus we passed the rest of the evening in silent reflection. We decided not to dine, but simply to pray quietly in our room and to go to sleep with this fresh sense of illumination in our hearts. "Into Thy hands, O Lord, I commend my spirit. Have mercy on me and grant me eternal life. Amen."
We stayed in Thessalonika until Sunday. On Sunday was the feast of Great Martyr Demetrios. On Saturday we were able to get inside the church for the vespers, but on Sunday we had to stand outside due to the throngs of people. The president of Greece and the entire diplomatic corps was present for the moleben. In was interesting: the choir was singing in the church, the service was transmitted outside over microphones, the bells were ringing, and a military band was playing-all at the same time.
On Sunday we returned by bus to Athens. The next day, we made our final purchases for the church and walked around the city.
Early Tuesday morning we went to Peiraeus, intending to sail to the island of Aegina, to the relics of Saint Nektarios of Pentapolis. Praise God, we reached our destination, the convent where the holy relics (or rather, what is left of them) are located. There we also served a moleben and again commemorated everyone. ... Having spent some time there, we made our way to the other side of the island, to Saint Marina's, and from there we returned to Peiraeus.
Back in Athens, we had dinner in the same restaurant where we usually ate. Afterwards we walked around the city, returning in good season to the hotel, since we wanted to go the next morning-Wednesday 29 October-to the island of Andros. Located on this island since the ninth century is the small monastery of Saint Nicholas of Myra in Lycia. At the monastery there is a Myrrh-streaming icon of the Mother of God, which has been exuding myrrh for seventeen years.
Twice Brother Joseph had attempted to get to this island, but for various reasons-a storm or some other obstacle-he had been unable to do so. But that day our journey was successful, and we arrived on Andros in the morning together with a pious Greek woman, a spiritual daughter of the late Archbishop Anthony of Geneva. The day was overcast. A half-hour drive in a taxi along steep roads brought us to the monastery, where we were met by two monks, one of English descent, the other, German. They had been expecting us and invited us at once into the church, to the Myrrh-streaming icon.
Brother Joseph was overjoyed, like a child. With God's help he had at last made it to the monastery, to the icon. On the way to the church, we went into a cave where some ascetics had chained themselves, giving the key to the lock to someone else so as not to succumb to the temptation to forsake their vows. The cave was permeated by the fragrance of incense, although no services were held there.
We reached the courtyard where the church was located. One of the monks went to fetch the key. As we waited, we basked in the tranquility of this grace-filled place. While we were talking, the monk opened and entered the church. We were about to follow him, when he suddenly returned to the doorway. "The Mother of God is weeping!" At that time we didn't understand what this meant. We thought the icon was streaming myrrh, but the monk said it was weeping. And indeed, a second ancient icon of the Mother of God, a large wall icon of the praying Mother of God had just then begun to weep. We couldn't help asking: How? Why? We went in and venerated and kissed the icon, which was on a pillar in the church narthex. One of the monks told us that the icon weeps when something dreadful is happening or is about to happen. Brother Joseph and I did not believe in coincidences, and we knew that this phenomenon was somehow related to us or to our Church. The dried flowers by the icon, the monk told us, were brought by pious people, who prepared themselves to do this with prayer and fasting. They left the flowers there until the following Feast of Annunciation. On that day, a majority of the flowers revive and give off a sweet fragrance, and those who brought them consider this miracle to be a special blessing for them from the Mother of God. As the monk finished, Brother Joseph said to me for the first time: "I feel that something is going to happen. I don't know what, but the feeling is very strong"!
Having prayed there, we approached the iconostasis, which held the Myrrh-streaming icon. An intense fragrance of roses filled the church and, indeed, the whole monastery. The icon had been brought to the monastery from Byzantium in the twelfth century, and ever since then it had been located on the iconostasis to the left of the Royal Doors. It is almost entirely covered by a silver riza, and is behind a grating, which they opened so that we might venerate the icon. We could smell the fragrance but did not see any myrrh, although we noticed that the riza was wet and covered with myrrh. And this has been going on for seventeen years!..
At the right side of the church there are relics of Saint Nicholas the New Martyr, martyred by the Moslem Turks near a tree. On the day of his commemoration, blood oozes from the tree. We were shown a bottle with blood collected from the tree. Wherever you turned in this monastery, there was some holy object. Receiving a blessing, we served a moleben with an akathist to the Mother of God and Saint Nicholas. We didn't want to leave the church. The monks sang the troparia in Greek and we repeated them in Slavonic. During the moleben, we once again prayed for all those dear to us all over the world. I asked the Mother of God for a blessing that I might continue to serve God and man, and I asked Saint Nicholas for a blessing on my journey, as I was returning the next day to Argentina. Brother Joseph told me that in his prayer, he repeated his daily prayer to the Mother of God concerning the youth in Argentina: "That they would all grow to be holy men and women!" What better wish could there be! Brother Joseph's words and responses were always like this: short, clear, wise, full of Christian love and a firm faith in Christ!
When we left the church, we went to the spring of the holy Archangel Michael. In the fifteenth century, the archangel had appeared there and with his spear had struck a stone, causing water to flow from it. ... From there we went to the chapel of the Mother of God, where there is planted a branch from the Unburnt Bush, and it is flourishing. We also went to the small church of the Nativity of the Theotokos where, apart from the walls, everything is blue, even the seats in the trapeza. Here we sang the troparion in Greek and Slavonic. Fr. Dorotheos tried singing after me, although he didn't know a word of Russian, but at the end he sang in Slavonic: Glory to the Father and to the Son and to the Holy Spirit..." thereby inviting us to sing the kondak. Brother Joseph was very interested in everything that we were shown, and with great reverence he kissed all the icons and relics.
Let us return here to the account of the trip, which, by God's mercy, had turned into a pilgrimage. With every step our hearts became increasingly peaceful, joyful, filled with a sense of blessedness. We venerated the relics of saints from all over the world and from all periods of Christian history. After a tour of the monastery and its sacred treasures, we returned to the icons of the Mother of God and again venerated and prayed before them.
We were then invited to partake of the traditional Greek coffee and pastry. The monks told us about life there at the monastery and invited us to the trapeza for lunch. Here Abbot Dorotheos asked us to sing the Lord's Prayer in Slavonic. Brother Joseph himself began: "Otche nash..."
After the tasty monastic meal, we continued our conversation about the Church and about faith (on this day there was no reading at the trapeza). We had no desire to leave, but we had to return to Athens. Brother Joseph said how sorry he was to leave this monastery. We bid the monks farewell. Fr. Dorotheos gave us some cotton with myrrh from the Mother of God and some small icons. It is hard to express the love with which he embraced us. We departed with tears in our eyes, and again we fell silent. We did not want to disturb with conversation our impression of the countenance of the Myrrh-streaming Mother of God and the severe visage of the weeping icon of the Mother of God.
We arrived late in Athens, and went to dine for the last time at "our" restaurant. After dinner, we said our good-byes. "Kalo taksidis! Evkharisto!" They thanked us. That night we had no desire to sleep and we decided to take a walk. Strolling through the city, we found a cafe and ordered some tea and baklava. We sat there for several hours, talking about the youth in Argentina and Brazil. Again Brother Joseph amazed me with his memory. After about half an hour, I began to notice that everything Brother Joseph was saying was a delicate criticism addressed to me. We spoke about sermons (Brother Joseph had been present when I, still a deacon, delivered my first sermon), and I realized that his comments were directed at me, although they were made in such a way as to appear of general application. The conversation worked its way into a mutual confession. I acknowledged those faults which Brother Joseph had just remarked, and he began to talk about himself, about his childhood, about the time he spent at the metochion in Montreal, about his sojourns on Mt Athos, about the Iveron Icon... He went through his whole life.
The next day we did not hurry to get up. At breakfast, we talked some more, and again Brother Joseph told me of his feeling that something dreadful was going to happen. He said this calmly, without any fear. Afterwards we went to the jeweler who had made a beautiful riza for our Iveron Icon. We sat and talked with this genuine Christian for a long time. He invited us to lunch, after which we took our leave.
I went to rest before my flight home, and Brother Joseph went to buy a lampada for my father. On his return, he woke me and we got ready to go to the airport. There, while waiting in line, Brother Joseph noticed a boy with evident signs of some illness. He was with his family, pious Roman Catholics, and his little sister said to Brother Joseph, "My brother is alive thanks to the Mother of God and the holy water that our mama gives him instead of medicine." Brother Joseph consoled the boy's parents with tender words, encouraging them to continue trusting in the mercy of the Mother of God. He told them about the Iveron Icon, and asked me to give them a small icon and some cotton with the myrrh from "our," as he put it, icon.
We reached the entrance of the room for passengers only, Brother Joseph said to me, "Forgive me, father, for everything bad I have done, and if I offended you in any way, from all my heart I ask your forgiveness." And I in turn, "Forgive me, José. God will forgive. A BIG thanks for everything!" And right there Brother Joseph made a prostration in front of me, and I did likewise before him. We embraced. I was already leaving when Brother Joseph cried out after me, "Bless me, father!" I: "God bless you, José!" He: "Go with God!" I: "Go with God!" It was the last time... In this way we parted, just hours before his death.
We agreed that he would call the next day to find out if I reached home safely. I arrived Friday morning and waited for his call until evening. I did not worry when it didn't come, knowing that his plans often changed unexpectedly. Nevertheless, I called the hotel the next day, Saturday, and was told that he was not there. At two o'clock the next morning, Sunday, my brother, Fr. Paul, called [from San Francisco] to ask whether there was any truth in the horrible news that Brother Joseph had been murdered. This time when I called the hotel, they recognized me, and confirmed the unwelcome news. I immediately thought of the weeping icon. Was Joseph's death the beginning of something dreadful?
During the first panikhida, my mind focused on the words: "The saints have found the fountain of life, and the door of paradise: may I also find the way through repentance, I am the lost sheep..." Yes, we must repent and ask God's forgiveness for this great loss. As Fr. Valery [Lukianov] said in his sermon at Brother Joseph's funeral, the devil is going to strike and take away the best of us, and God will allow it because of our sins.
After the confirmation of Brother Joseph's tragic death, the question uppermost in everyone's mind was, naturally, "What about the icon?" For fifteen years the Myrrh-streaming Iveron Icon was a pillar of our church. Many of our parishes are beset with problems, disagreements, animosities. In the presence of the icon, people came together, they embraced, they were reconciled. The icon inspired compunction, humility, a return to the essence of Christianity. Such was its wonderworking power.
Although I knew that Brother Joseph had not taken the icon with him to Greece, I, too, was anxious as to its whereabouts. But straightway there came to mind the words of the Mother of God to the righteous monk Gabriel: "I did not come to be guarded by thee, but I shall be thy Guardian." We all trust that the icon is safe, and many of us consider that it has all been arranged by God's wise providence. Nevertheless, other words of the Mother of God to the righteous Gabriel come involuntarily to mind: "This shall be for you a sign: As long as you see my icon in this monastery, the blessing and mercy of my Son towards you will not fail."
Let us daily remember these words of the Mother of God and pray not only for the repose of the soul of our Brother Joseph, but, looking upon a copy of the Myrrh-streaming Icon, which at some time we placed in contact with the original, and smelling the fragrance from one of the countless pieces of myrrh-soaked cotton, with heartfelt repentance let us cry out to our Heavenly Mediatrix and Protectress, "May the grace and mercy of thy Son towards us never fail. Amen."
[../../_private/oabot.htm]