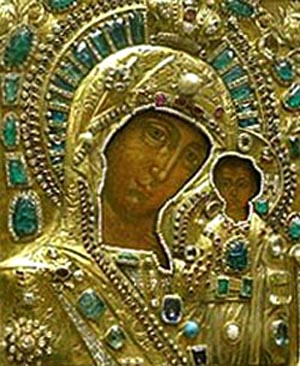 On the Feast of the Kazan Icon
Our Lady of Kazan, also called Theotokos of Kazan (Russian: Казанская Богоматерь tr. Kazanskaya Bogomater'), was a holy icon of the highest stature within the Russian Orthodox Church, representing the Virgin Mary as the protector and patroness of the city of Kazan. It was considered a palladium of Russia for centuries, until its theft and likely destruction in 1904. Two major Kazan Cathedrals, in Moscow and St. Petersburg, are consecrated to Our Lady of Kazan, as are numerous churches throughout the land. Her feast days are July 21 and November 4 (which is also the Day of National Unity).




Ancient and venerated copies have been displayed at the Kazan Cathedral of Moscow, at Yaroslavl, and at St. Petersburg. Copies of the image are also venerated in the Catholic Church.
Fátima image
After the Russian Revolution of 1917, there was speculation that the original icon was in fact preserved in St. Petersburg. Reportedly, an icon of Our Lady of Kazan was used in processions around Leningrad fortifications during the Siege of Leningrad.[3] There was a conflicting theory that the image had been sold by the Bolsheviks abroad. Although such theories were not accepted by the Russian Orthodox Church, a reputed original (one of several in existence) was acquired by the Blue Army of Our Lady of Fatima and enshrined in Fátima, Portugal in the 1970s. The image proved to be a copy, dated by experts to ca. 1730.


In 1993, the icon from Fátima was given to Pope John Paul II, who took it to the Vatican and had it installed in his study, where he venerated it for eleven years. In his own words, "it has found a home with me and has accompanied my daily service to the Church with its motherly gaze."[4] John Paul II wished to visit Moscow or Kazan to personally return the icon to the Russian Orthodox Church. When these efforts were blocked by the Moscow Patriarchate, the icon was presented to the Russian Church unconditionally in August 2004.[5] On August 26, 2004 it was exhibited for veneration on the altar of St. Peter's Basilica and then delivered to Moscow. On the next feast day of the holy icon, July 21, 2005, Patriarch Alexius II and Mintimer Shaymiev, the President of Tatarstan, placed it in the Annunciation Cathedral of the Kazan Kremlin (illustrated, to the right).


The icon is enshrined in the Church of the Elevation of the Holy Cross, part of the erstwhile Monastery of the Theotokos, on the site where the original icon of Our Lady of Kazan was found and plans are underway to make the monastery's other buildings into an international pilgrimage centre.
Archbishop Seraphim (Sobolev) of Bogucharsk (+1950) | 21 July 2012
Our Fervent Intercessor: On the Kazan Icon


Let this mind be in you, which was also in Christ Jesus: Who, being in the form of God… humbled Himself, and became obedient unto death, even the death of the cross. Wherefore God also hath highly exalted Him, and given Him a name which is above every name (Philippians 2:5-9).
My beloved children in Christ, it is salutary for us to know why the Holy Church draws our attention to these apostolic words on feasts of the Theotokos, words that speak of the exaltation by God the Father of His Divine Son on account of His ineffable humility. It is because the Lord has also exalted the Most Holy Mother of God and given her a name, that is, such great glory as has not been given to any of His rational beings. It is for good reason that the Orthodox Church magnifies her as more honorable than the Cherubim and beyond compare more glorious than the Seraphim. The Mother of God received this glory because she became like the Savior Himself in His great humility. The words spoken by the Most Holy Mother of God to the Righteous Elizabeth testify to this truth: For He hath regarded the humility of His handmaiden (Luke 1:48).
The question arises: what are the salutary consequences of this for us, my beloved ones?
We, too, are called to the great heavenly glory of Christ's Kingdom and to its eternal, paradisaical blessedness. The Lord, in His High Priestly Prayer, said: Father, I will that they also, whom Thou hast given Me, be with Me where I am; that they may behold My glory, which Thou hast given Me… before the foundation of the world (John 17:24). The path to our exaltation, to our future heavenly glory, is the very same as that which the Lord trod, as did His Most Pure Mother and all the saints. This path is narrow, sorrowful, and thorny: it is the path of the humility of Christ.
If we wish therefore to follow our divine fore ordination, we must make real the words of the Apostle Paul: to associate with the humble (Romans 12:16); that is, we should emulate the humble by possessing humility. According to the teaching of St. Macarius of Egypt, humility is the foundation and whole essence of Christianity: it is our rebirth, renewal, and salvation. The Lord grants His saving grace for this alone, as it pleased Him to declare through His revelation: God resisteth the proud, but giveth grace unto the humble (James 4:6; cf. 1 Peter 5:5; Proverbs 3:34).
We need humility not for our future heavenly glory alone, however. It is also requisite for our temporal life, for our deliverance from every misfortune. Thus it is evident why the Holy Fathers of the Church testify that every misfortune is sent to us by the Lord to humble us and, by means of this humility, to unite us with Himself, inasmuch as pride separates us from God and deprives us not only of future blessedness, but of temporal happiness as well.
All our attention should be directed hereto. Inasmuch as the Most Holy Mother of God is our first Defender and Deliverer from all misfortunes, it is clear that all our prayers to her – both for our deliverance from every misfortune and for the attainment of every temporal good – must be founded upon humility. She greatly abhors the proud but greatly loves the humble, as is shown by ecclesiastical tradition, especially by the lives of holy people.
In this regard, let Hieroschemamonk Macarius of the Nizhny Novgorod Caves Monastery, a great ascetic struggler of the Russian Church, serve for us as a salutary example. [1] Even as a simple monk in the Zheltovodsky Makaryev Monastery (also located in the province of Nizhny Novgorod) he was noted for his lofty Christian life. Two traits in particular clearly distinguished him among the other monks: he possessed great humility and never spoke a word of judgment against his neighbors. For humility consists in not judging anyone, but rather in blaming oneself. Moreover, he prayed with special fervor to the Most Holy Mother of God. But a severe trial befell him: he became mortally ill. The minutes of his life were numbered. The brethren came to bid him farewell and the superior had already read the prayers for the departure of the soul. Fr. Macarius then suddenly began to doze off. He beheld a wondrous vision: radiant youths appeared to take his soul. The dying one, weeping, began to beg them to let him live so that he could repent properly before God for his sins. But the angels said to him: "Follow us."
With these words, the monk's soul left his body. The angels showed it the place of infernal torment, where sinners were pleading, like the rich man in the Gospel, for water to be dropped on their tongues to provide at least some relief from the terrible infernal flames. The monk's soul began to experience such horror as no words can describe. But then the angels raised his soul to the heavenly abode and showed it the celestial mansions of the Heavenly Queen herself. He saw the Heavenly Queen with a countless multitude of angelic powers wondrously singing the church hymn: "All of creation rejoices in thee." Then the Mother of God, turning to the soul of Macarius, said: "Return for fifteen years to your earthly habitation and, for the sake of the prayers of St. Macarius, serve in the altar of his holy monastery." The dying monk Macarius rose at that very moment and completely regained his health, to the great astonishment of all his brethren. Gathering in the monastery church, they glorified God for His great miracle by chanting the church hymn: Glory to God in the highest, and on earth peace, good will toward men (Luke 2:14).
Beloved brothers and sisters in Christ, let us emulate this great monk by acquiring the humility of Christ; at the same time, let us pray with humility to the Most Pure Mother of God. Let us entreat her not only with humility, but also with love for Her, recalling how gravely she suffered for us and our salvation while standing at the Cross upon which her Divine Son was crucified. Let us not forget that even now the Mother of God continues to suffer for us when we commit grave sins. The vision of St. Andrew the Fool-for-Christ testifies to this: he saw how she shed tears and prayed for the faithful while making the sign of the cross over them with her maternal omophorion.
Finally, let us pray continuously to the Most Pure Mother of God, inasmuch as she ceaselessly and continuously entreats her Son, our Lord Jesus Christ, on our behalf.
May the words of a prayer to her of our Orthodox Church sound more often from our lips: "Never, O Theotokos, will we cease to speak of thy powers, unworthy as we are… Let us never forsake thee, O Lady, for thou dost ever save thy servants from all perils." Amen.
Delivered in the Russian Orthodox Church of St. Nicholas in Sofia, Bulgaria, on October 22 / November 4, 1945 (commemoration of the deliverance of Moscow by the Kazan Icon in 1612).
[1] This account is from the life of the Elder Mardarius (as Fr. Macarius was named in the schema), who reposed on April 6/19, 1859.
Source:
http://www.pravmir.com/humility-is-the-foundation-and-essence-of-christianity-on-the-feast-of-the-kazan-icon/#ixzz3gZdIUCCw
From the Holy Rule of St. Benedict, chapter VII. On Humility
Brothers and sisters, divine Scripture calls us saying: Whoever exalts him or herself shall be humbled, and whoever humbles him or herself shall be exalted (Lk 14:11; 18:14). In saying this, therefore, sense that every exaltation is a kind of pride, which the Prophet indicates he has shunned, saying: Lord, my heart is not exalted; my eyes are not lifted up and I have not walked in the ways of the great nor gone after marvels beyond me (Ps 130<131>:1). And why? If I had not a humble spirit, but were exalted instead, then you would treat me like a weaned child on its mother's lap (Ps 130<131>:2).
Accordingly, brothers and sisters, if we want to reach the highest summit of humility, if we desire to attain speedily the Compassionate Presence of Christ to which we climb by the humility of the present life, then by our ascending actions we must set up that ladder on which Jacob in a dream saw angels descending and ascending (Gen 28:12). Without doubt, this descent and ascent can signify only that we descend to exaltation and ascend by humility. Now the ladder erected is our life on earth. If we humble our hearts the Lord will raise them to Christ's compassion being present in our actions for the benefit of all sentient beings. We may call our body and soul the sides of this ladder, into which our divine vocation has fitted the various steps of humility and discipline as we ascend.
The first degree of humility, then, is that a person keep the fear of God before his eyes and beware of ever forgetting it. Let him be ever mindful of all that God has commanded; let his thoughts constantly recur to the hell-fire which will burn for their sins those who despise God, and to the life everlasting which is prepared for those who fear him. […] Let a man consider that God is always look at him from heaven, that his actions are everywhere visible to the divine eyes and are constantly being reported to God by the Angels.
The second degree of humility is that a person love not his own will nor take pleasure in satisfying his desires, but model his actions on the saying of the Lord, I have come not to do my own will, but the will of him who sent me.
The third degree of humility is that a person for love of God submit himself to his Superior in all obedience, imitating the Lord, of whom the Apostle says, He became obedient even unto death.
The fourth degree of humility is that he hold fast to patience with a silent mind when in this obedience he meets with difficulties and contradictions and even any kind of injustice, enduring all without growing weary or running away.
The fifth degree of humility is that he hid from his Abbot none of the evil thoughts that enter his heart or the sins committed in secret, but that he humbly confess them.
The sixth degree of humility is that a monk be content with the poorest and worst of everything, and that in every occupation assigned him, he consider himself a bad and worthless workman.
The seventh degree of humility is that he consider himself lower and of less account than anyone else, and this not only in verbal protestation but also with the most heartfelt inner conviction.
The eighth degree of humility is that a monk do nothing except what is commended by the common Rule of the monastery and the example of the elders.
The ninth degree of humility is that a monk restrain his tongue and keep silence, not speaking until he is questioned.
The tenth degree of humility is that he be not ready and quick to laugh.
The eleventh degree of humility is that when a monk speaks he do so gently and without laughter, humbly and seriously, in few and sensible words, and the he be not noisy in his speech.
The twelfth degree of humility is that a monk not only have humility in his heart but also by his very appearance make it always manifest to those who see him. That is to say that whether he is at the Work of God, in the oratory, in the monastery, in the garden, on the road, in the fields or anywhere else, and whether sitting, walking or standing, he should always have his head bowed and his eyes toward the ground.
Having climbed all these steps of humility, therefore, the monk will presently come to that perfect love of God which casts out fear. And all those precepts which formerly he had not observed without fear, he will now begin to keep by reason of that love,
without any effort, as though naturally and by habit. No longer will his motive be the fear of hell, but rather the love of Christ, good habit and delight in the virtues which the Lord will deign to show forth by the Holy Spirit in his servant now cleansed from vice and sin.
Conference by Abbot Paul Tuesday 16th June 2015
It was a great joy at the weekend to give 42 children their First Holy Communion down at Our Lady's. It was also a reminder of the many happy years spent serving so many towns and villages in Peru. When I went out to Peru with Fr Luke and Fr David in 1981, I was exactly half the age I am today and that's a sobering thought. I can't help but contrast the innocence and excitement of first communicants with what I am in danger of becoming: a grumpy old man. I pray that we all, through God's grace, may grow younger as we grow old and always be filled with a spirit of wonder and awe as we stand before God to celebrate and receive his Sacred Mysteries. We remember the words of the Lord Jesus, "Unless you be converted and become as little children, you shall not enter the kingdom of heaven." (Mt. 18: 3) Here the Greek word στραφῆτε does not refer to conversion in the usual sense of the English word, but rather to turning away from proud and ambitious thoughts, for jealousy, rivalry and ambition seem to be rife among the apostles. They and we are to become as little children, innocent and pure. The special attributes of children, which Jesus would recommend, are humility, unworldliness, simplicity and allowing ourselves to be taught, in direct contrast to self-seeking, worldliness, distrust and conceit, which are usually found in adults.
Perhaps the purpose of the monastic life is precisely this, to turn and become once more as little children and to exchange the sophistication that leads to sin for the purity of heart of a young child. I hasten to add that God does not want us to be childish, as sometimes we can be, but childlike, which most times we are not. To help us on this road to monastic and Christian holiness, St Benedict, in Ch. 7 of the Holy Rule, proposes the twelve steps of humility, reminding us that it should and can only be "love that impels monks to pursue everlasting life." (RB 5: 10) That love, of course, is God's love for us, that perfect love which is beyond all understanding and which keeps us in his embrace no matter how inadequately we respond to it with our cold, self-centred and sinful hearts.
"The first step of humility, then, is that a man keep the fear of God before his eyes (Ps 36: 2) and never forgets it." (RB 7: 10) Therein lies the rub: we do forget it, constantly and so easily. The awe and reverence we should have as we live in God's presence is often forgotten when, rather than focus on God, we focus on ourselves and place ourselves at the centre of our warped universe. St Benedict talks about "constantly remembering" what God has commanded us, that we are "always seen by God in heaven" and that "everywhere we are in God's sight." (RB 7: 11-13) Our constant prayer should be to ask God, in his mercy, to help us remember that we are always in his presence and that there is no escaping from that presence, as we sing in Psalm 138. "O where can I go from your presence, or where can I flee from your face? If I climb the heavens, you are there. If I lie in the grave, you are there." No matter where we are or how far we have strayed from God, there his hand still guides us and keeps us safe, as Jonah discovered in the belly of the whale.
The first and most important step of humility centres on not doing our own will. All else will depend on that. In fact, the edifice of our spiritual life crumbles and disintegrates unless we are able to give up our self-will. For this reason the Lord Jesus taught us to pray to our heavenly Father, "Thy will be done on earth as it is in heaven." (Mt 6: 10) and why his own life on earth is the model to which we are called to conform by our baptismal promises and more specifically by monastic vows. The link here between obedience and humility could not be clearer. Humility depends on obedience, while obedience is in turn strengthened by humility. When we think or talk about the desires of the body, we usually mean such passions as lust, anger, jealousy, greed, avarice, and so on, but the fundamental desire is to do our own will, to have our own way, to put ourselves first and to relegate others, even God himself, to the last most insignificant place. To some extent you could say that this is the spirit of the age in which we live, though it's a spirit that's been around ever since Adam ate of the forbidden fruit and original sin entered into the life of Man. I believe that every time we ask God for mercy, we are asking that his will be done. In fact, every prayer ultimately comes back to that one basic plea: that God's will be done in our lives and in every aspect of our lives. "There is one thing I ask of the Lord, for this I long, to live in the house of the Lord all the days of my life, to savour the sweetness of the Lord, to behold his temple. (Ps 26: 4) What does it mean "to live in the house of the Lord" if not to do his will?
Today we celebrate the feast of St Richard of Chichester. He, like all the saints, teaches us what joy and fulfilment there is in doing God's will rather than our own. I have always found him to be one of the most attractive and lovable of the medieval English saints and one in whose footsteps I would dearly love to follow, in his intimate love of Jesus and profound life of prayer, as well as in his fight for integrity and justice. I can think of no better way of ending this conference than with the famous prayer attributed to him.
Thanks be to Thee, our Lord Jesus Christ,
for all the benefits which Thou hast given us,
for all the pains and insults which Thou hast borne for us.
Most merciful Redeemer, Friend and Brother,
may we know Thee more clearly,
love Thee more dearly,
and follow Thee more nearly,
day by day. Amen