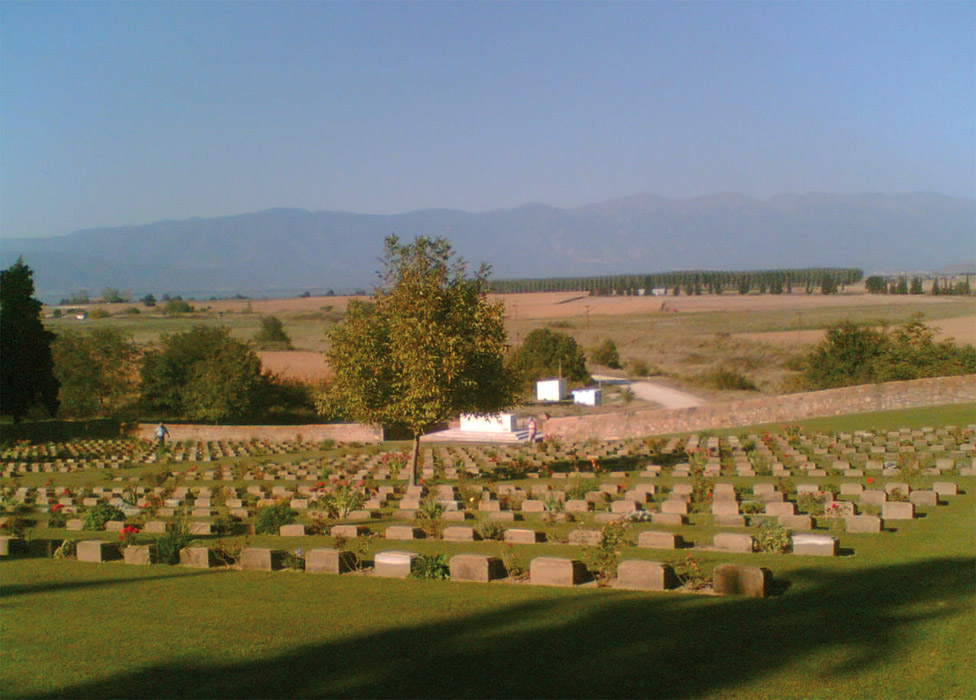 During my recent visit to Northern Greece, I was privileged to spend a few hours at two British war cemeteries, one overlooking Lake Doirani on the border of Greece and the Republic of Macedonia, the other on the east side of the city of Thessaloniki.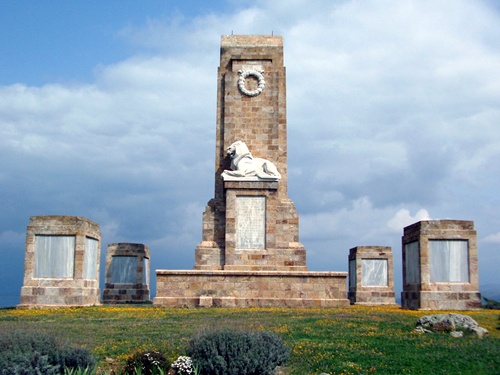 There is, of course, yet another cemetery on the west side of the city, near the French war cemetery. At Doirani, on top of the hill, from which you can see the theatre of the battle that took place in 1917, there is also a magnificent British War Memorial, where the names of all the 12,500 or so British and Empire fallen, including women, who served as nurses, are carved in stone. These cemeteries, like all British war cemeteries, are beautifully and lovingly kept, and are really oases of peaceful prayer and quiet contemplation, often, as in the case of Thessaloniki itself, surrounded by the bustle and noise of modern city life.
These three cemeteries were built at the end of the First Word War, so it is particularly poignant and moving to see Catholic, Protestant and Orthodox Christians buried together with Jews and Muslims. Occasionally, one can witness the respect given to the enemy in death, innocent conscripts caught up in the machinations of the great powers, by the inclusion of their remains among our own war dead. Then there are the gravestones, quite a number in Welsh, with their names and the basic details of a life sacrificed far from home, though many have no name and some say something like this: "The remains of forty seven Greek soldiers."
Why am I telling you this? In the first place, because I remain deeply moved by what I saw and cannot eradicate the memory of the emotions felt there; secondly, because this year, in many different ways, we are recalling and remembering the events of that war, which shattered the peace of so many families and nations; and in the third place, because, it seems to me as a Benedictine monk, that the deaths of so many young and innocent men and women cannot be grasped and understood other than in the light of the Passion, Death and Resurrection of Our Lord and Saviour Jesus Christ. He is the only one who can unlock the mystery of suffering and death and turn futility and human madness into God's plan for his Kingdom of justice, truth, love and beauty. He alone is the answer to our doubts and uncertainties, to our horror at the suffering of millions, not only then but before and since and today.
At the beginning of Lent we are told, as ashes are placed on our heads, "Remember, man, that thou art dust and to dust thou shalt return." Lent, in a very special way, and our Lenten observances make us very conscious of our mortality, not simply because we are looking forward to celebrating Holy Week and the Sacred Triduum, but also because of our human frailty, what with our many weaknesses and general sinfulness. We try to make a good Confession before Lent begins, thus giving real meaning to the name Shrove Tuesday, and again as Easter approaches, trying to be as free from sin as possible so as to enter fully into the mysteries of that Great and Holy Week. In the words of the Compline prayer, we look on death as "a bed of hope for all who believe."
Then again, and this is obviously not limited to Lent, we are very much aware of our physical and mental deterioration and diminishment. In a young man this might be the loss of hair and creeping baldness or a visit to the dentist. As we grow older, we need a strong sense of humour to accept and make the most of the havoc that time wrecks on us. Far more important, our lives can be affected by life-threatening illnesses and chronically debilitating conditions. Little wonder that St Benedict advises us among the Tools of Good Works, to "live in fear of judgement day and have a great horror of hell, to yearn for everlasting life with holy desire and day by day to remind ourselves that we are going to die." We cannot help but have death daily before our eyes. In no way are these thoughts morose or depressing. In the Canticle of the Creatures, St Francis of Assisi describes death as our sister, while Jesus, at the Last Supper, tells his disciples, "Do not let your hearts be troubled. Trust in God still, and trust in me." Death is not the end and this life just the vestibule and gateway to heaven. In fact, death is the only thing we can look forward to in this life with any certainty, but thank God we do not know the day or the hour. We should not fear death, though it is only natural to worry about the circumstances, especially the agony we might be called upon to suffer, but the final Tool in Chapter 4 of the Rule tells us clearly, "Never lose hope in God's mercy." It is God himself who will choose the time and manner of death for each one of us, and his sole criterion will be his divine mercy. He does not want the death of a sinner, but that we repent and live. He does not wish our eternal damnation, but our salvation and eternal happiness, the Cross of Jesus, the Empty Tomb, the Cenacle and the Upper Room being the proof of his sublime love and tender compassion for each one of us, indeed for each one of his creatures. Not a sparrow falls to the ground and dies, but God is there to receive it in his motherly embrace, and we are worth more than thousands of sparrows.
The celebration of the Paschal Mystery which draws to a close this coming Sunday, the Feast of Pentecost, fills us with hope, confidence and joy, as in Christ we see God's plan for Creation unfold and his purpose fulfilled. We are not simply dust and ashes; we are not only what we see. In each one of us there is an eternal flame, a spark of God's own Spirit, God's own life. The Risen Christ, though not easily recognized by his unbelieving disciples, is no ghost, but human flesh, a body whose open wounds can be seen and felt, a human being who can eat a plate of grilled fish by the lakeside and speak with Mary Magdalene in the garden, the same Jesus who promised them the gift of the Paraclete and now breathes on them, saying, "Receive the Holy Spirit." In Christ, risen from the dead and ascended into heaven, death really has lost its sting and all has been made new, even you and me.
On that hill above Lake Doirani in the Macedonian countryside, the names of 12,500 servicemen and women are carved in stone for as long as this world stands, as a sign of honour and thanksgiving for having made the supreme sacrifice, which God accepts in union with the sacrifice of his Beloved Son. However, their names are written in blood for all eternity in the Book of Life, deep the Heart of God. Our faith enables us to believe that our names too are written there, for our lives are so united and entwined with the life of Christ through the indwelling of the Holy Spirit, that "he abides in us and we in him" and that "nothing can now separate us from the love of God made manifest in Christ Jesus our Lord." Amen.