Today, Saturday, September 8th, I have some free time to begin my blog posts, even though I shall not be able to publish them with photos until I get back to Belmont.
I arrived in Minsk on Wednesday afternoon and was met by Brother Anton who is one of the many young men and women who are affilitated with the convent without being a monk or a nun. I suppose we would call him an oblate. Like many others, he lived an aimless life until he discovered God and found a purpose in life dedicating himself full time to the life and work of the community of St Elizabeth. As you will see, there are many ways of belonging to this extraordinary community, and all are called "brother" or "sister".
Sisters Tatania and Sister Natalia, my two guardian angels.
Sisters Tatania and Sister Natalia, my two guardian angels.
He drove me to meet Sister Tatania, a "white sister", a group of oblates called by many "white nuns" for their habit, which is like that of a nurse or modern religious community in the West.
Father Andrei giving communion
The whole project began when Father Andrei, a married Orthodox priest and a grandfather, ask some of the many women who sought him for confession and spiritual direction, to follow the example of St Elizabeth.
St Elizabeth was a Grand Duchess married into the Romanov family and granddaughter of Queen Victoria, who had been brought up in England and was inspired by an Anglican congregation of "Sisters of Mercy". After the assassination of her husband, she became a nun, put on a white habit, and dedicated her life the the sick, the marginalised and the most rejected in the slums of St Petersburg. She founded a congregation dedicated to contemplation and constant love for the most needy. All this came to an end with the Bolshevik Revolution and her own martyrdom. Father Andrei wanted to revive the ideal among the most dedicated women among his penitents. You will learn more about this and of a remarkable priest, Father Nicholas, from whom Father Andrei received the necessary blessing to start and who may one day be a saint.
The women who answered Father Andrei's appeal were from many walks of life. Some were married or had other obligations that they had to balance with what Father Andrei was asking them to do; while there were also single women ready to give over their whole lives to the project. Some even left university in order to take up the challange. However, they lived at home and did not take vows.
The White Sisters began their work by visiting the National Psychiatric Hospital in Minsk, a place feared and despised by the local population; and the visiting was later extended to orphanages and prisons. The Communists neglected these institutions which often fitted better into a Charles Dickens novel than into the 20th Century. They began their work in 1996 with the cooperation of the non-communist authorities. The mental hospital is huge, and the Divine Liturgy is celebrated in a room that has been turned into a chapel and in another room in an other part of the hospital while the authorities allowed the white sisters to build a"small church" in the grounds, little knowing that there would eventually be a large monastery and four churches in that place!
They were all spiritual children of Father Andrei and went regularly to him for guidance; and he, according to Orthodox tradition, would work out with each a prayer plan, differing from individual to individual, that would become part of each person's rule of life. In this way, some sisters were led, little by little, to take the monastic habit; and a new monastic community was born in 1999. It did not split off from the white sisters, both making up the wider St Elizabeth Community.
The monastic community began with around twenty "black sisters", but receives between ten and twenty new members a year, so that, at present there are one hundred and one in the community, including novices. In addition, there are about three hundred white sisters, continuing to live in their homes according to a rule of life worked out by Father Andrei, each balancing their commitments to the community with those of their home. Every Sunday evening, there is a meeting of the whole community, black and white, where Father Andrei gives a spiritual talk and where the sisters have a chance to air their views and talk over problems. After an Akathistos in honour of St Elizabeth the Martyr, they meet for a couple of hours. Then the black sisters, ther nuns, have their evening office. Each Wednesday, the nuns have a meeting with Father Andrei by themselves which follows basically the same pattern.
The nuns rise at 5.45 for morning prayer and Divine Liturgy usually follows at 7.00am, unless there is a feastday when it may be later. They then have breakfast, and work follows. The work to which each is assigned, whether she is a black sister or a white is called her "obedience", and all work is done with the blessing of the superior or spiritual father. This may be in any one of the various activities of the community, together with the white sisters and many other people who collaborate either professionally or on a voluntary basis. In most workshops there is normally a nun in charge.
All work begins and ends with prayer for both religious and lay people.. At 12.00 mid-day and at 4.00pm, the white sisters say the Jesus Prayer 120 times. Full nuns are normally obliged to say the Jesus Prayer one thousand times in their cells, as well as an "akathistos" in honour of St Nicholas of Bari (Father Christmas) who is one of the patron saints of the community. However, there can be variations because the rule of prayer for each one is given them by Father Andrei. At 6.00pm until around 9.00pm the nuns have evening prayers unless there is a feastday when they hold Vigils during the same period, and this lasts three hours.
the Sunday meeting of nuns and sisters of mercy at 8.00pm. Father Andrei is speaking
There is a meeting of the black and white sisters together on Sunday evening after an akathistos in honour of St Elizabeth the Royal Martyr. They are given a spiritual talk by Father Andrei, after which they can talk about anything to do with personal prayer, community life or difficulties at work. One even read to the community a poem she had written!! All must attend. Twice a week, Father Andrei sees each member of the monastic community during the 6.00pm period or later on feast days. This can go on as late as 3.00am, because there are a hundred and one sisters. Thus he gets to know them all well. He also sets meets the monks on Sunday evening after the community meeting, and he sets aside time to see the white sisters as well. They tell me he has little sleep!! Another feature of the monastery is the perpetual reading of the psalms by one nun in full choir dress. It is the Orthodox equivalent of perpetual adoration of the Blessed Sacrament, but goes on without interrruption, except for during the celebration of the Divine Liturgy (Mass). Each does an hour in turn. The nuns do not eat meat and fast from all animal products on Mondays, Wednesdays and Fridays, and on some feast days like the Exaltation of the Holy Cross.
There are four stages in the monastic life and even, perhaps, a fifth for some who are monks or nuns for a very long time. This community is too young to have nuns who wear the great habit. A girl or woman - there are no age limits - enters as a postulant. Then she becomes a novice and is put under the care of a senior nun. There is no novice mistress. The the novice is received as a razophor, wears the full habit and changes her name. Finally, she takes her vows and is a full blown nun. None of these stages are for a set time, except the last. The length is decided for each person by the spiritual father. Thus, a novice can become a razophor after one or two years, but may wait for as long as ten years. The razophor does not take vows, but, at each stage, the obligation to stay increases, until vows are taken. One day, a nun may be permitted to put on the great habit, the schema, and this will oblige the nun to a much stricter personal lif, and to strive to the very summit of monastic perfection.
There are also other brothers and sisters affiliated to the community who give their services free or some remuneration according to the circumstances, and who receive the spiritual direction of Father Andrei.
Here you see Brother Anton dressed as a server, some nuns in the front and white sisters behind.
Brother Anton is one who works full time for the community but lives at home like the white sisters. Brother Ivan is another one, and he wants to be a priest. There are also a few priests and deacons who give their services to the community without being monks.
The regular visits to the mental hospital and prison led the community to concern itself with what happens to prisoners and mental patients after they leave their respective institutions.
The farm to house homeless people, ex- drug addicts, alcoholics and ex-prisoners, and the church built for them. It is called the Metochion, and all are "brothers", with regular prayers, weekly confession and Divine Liturgy. Their presence is voluntary. We will visit this place again. A sister is in charge.
The community opened a farm for those who were homeless, many being addicts and alcoholics, on land given them by the government at a nominal price. They now have two homes for men and one for women. There is also support offered to those who return home but are not very good at living in a family or bringing up children.
The need to employ these people and to prapare the inmates of the homes for outside life led to the creation of many workshops which are simply required to break even. Besides these, there are the specialist workshops that provide funds for the different works that the community does and provide money for new projects. For instance, a school is being built and a new guest house next to the convent. There is an icon studio that receives orders from all over the world. There is a workshop that makes icons on stone tablets where the colours are provides by dust from crushed semi-precious stones. Mental patients from the hospital are encouraged ton take part with the simpler tasks; but, sometimes, among inmates of the hospital or inmates of their homes, they find a special talent that can be trained to do highly artistic work.. There is a vestment workshop where icons and decorations are embroidered by hand, and another workshop where this is done by machines. There are workshops that makes gloves, slippers and shoes by hand. There are dairy products, and a place given over to breeding central asian shepherd dogs as guard dogs, and a dog hotel where people can leave their dogs when they go on holiday. I know I have not mentioned everything. There is enough work for two thousand people.
In order to sell their specialised products and to give people a taste of Orthodoxy and to make friends, they have offices specialising in contacts with foreign contacts, and they organise visits to foreign countries. One group is in England as I write, and another group is coming to England to sing. They are five men,members of the state opera and other musical institutions who give their labour to the convent free of charge. They shall be singing at Douai Abbey, near Reading, and other places in the South East. They have formed a male choir that will be visiting Brussels for a concert and then going on to England for two weeks and a series of concerts beiginning on September 28th.
They also have a professsional choir and, of course a monastic choir; and both sing at the Divine Liturgy (Mass). There is another choir that, besides singing at the liturgy, is gradually recording the whole Liturgy of St John Chrysostom in English, using Byzantine chants. They have a publishing house and a group which makes small films of parables taken from the Desert Fathers or Russian literature and do material for chatachetics.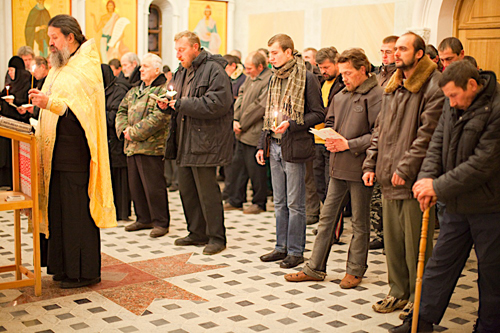 I think you get the general idea. I shall be a little more specific in other posts. I am having a remarkable time..
Later, you will meet Fr Andrei and hear a few of my experiences and some of the lessons I learnt.
THE POPE'S VISIT TO LEBANON
THE POPE'S VOICE AND AN ORTHODOX COMMENT BY A GREEK ORTHODOX PRIEST