Source: OrthodoxOutpost.com
ANDREW F. ESTOCIN | 26 DECEMBER 2016
Christmas can be too comfortable sometimes. As the Nativity Season unfolds, churches are celebrating the birth of Christ. Gifts are being shared and kitchens are busy preparing traditional foods. While all these events may be well intentioned, they frequently point us in the direction of nostalgia rather than a living faith. Nostalgia can be unhealthy. The more we focus solely on decorating Christmas ornaments and talking about our ethnicity, the more we lose sight of the truth that lies in the manger of Bethlehem and what Jesus Christ means for our lives.
The joy of the birth of Christ is real and should be celebrated. However, authentic celebrations do not numb our consciences and hide suffering. They transform them with a genuine love that is more than a simple feeling. This applies to Christmas as well.
Christmas has a cost that is far more than the amount of money we pay for gifts, or the amount of time we spend preparing food. We may have forgotten about this cost or chosen to ignore it, but it will never go away. Evil is real, and it is time to re-acquaint ourselves with the dark shadow that lurks just outside the cave of Bethlehem. The German pastor Dietrich Bonhoeffer provides the following reminder:



We have become so accustomed to the idea of divine love and of God's coming at Christmas that we no longer feel the shiver of fear that God's coming should arouse in us. We are indifferent to the message, taking only the pleasant and agreeable out of it and forgetting the serious aspect, that the God of the world draws near to the people of our little earth and lays claim to us. The coming of God is truly not only glad tidings, but first of all frightening news for everyone who has a conscience.
In the middle of the Church's celebration of Christ's birth, the reading from the Gospel of St. Matthew for December 29th quotes the prophet Jeremiah and tells us the following:
"A voice is heard in Ramah, weeping and great mourning, Rachel weeping for her children and refusing to be comforted, because they are no more."
What has happened? Just a short time ago on December 25th, we were opening presents and greeting each other with the words "Christ is Born! Glorify Him!" and now the liturgy of the Church tells us there is a terrible sadness throughout the land.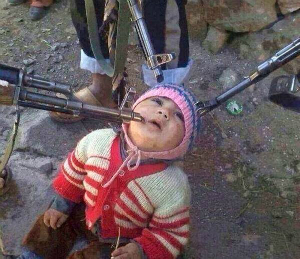 December 29th marks the Orthodox Church's remembrance of the slaughter of the innocents by King Herod. This day is a reminder to Orthodox Christians that our faith has a cost and that the God becoming man is a great joy but also a great threat to the powers of the world. One of the first people to see Christ's Nativity as a threat was King Herod of Jerusalem, who, upon learning of Christ's birth, ordered the mass killing of boys under two years of age in Bethlehem so as to preserve his political power. Orthodox Tradition numbers the children murdered at 14,000. The Kontakion for this day uses words that bring home this horror.



"When the King was born in Bethlehem, the Magi came from the east. / Having been guided by the star on high, they brought Him gifts. / But in his exceeding wrath, Herod mowed down the infants as wheat; / lamenting that the rule of his kingdom had come to an end.




Imagine 14,000 children in your community being "mowed down as wheat".
Imagine a government-sponsored pogrom that executes every boy under two years of age in your town.
Imagine holding funerals in your parish for countless children because Jesus Christ was born somewhere nearby.
This not only happened two thousand years ago- it is happening today in ancient Christian lands where what only can be described as genocide is taking place. In the past year, the world has been bombarded with horrific images of Christian beheadings and watched as Christian communities are torn from their historic roots and destroyed. Acts of Christian persecution that were once thought to be confined to the history are flourishing today.
King Herod has many contemporary successors and thousands of innocents continue to be "mowed down as wheat" for simply living their Christian faith. In addition to this persecution, abortion on-demand continues to be a human catastrophe in the United States as well as in Orthodox countries.
Rachel does indeed weep, for her children are no more.
The Nativity of Jesus Christ reminds that to be an Orthodox Christian means to row upstream against the currents of the world. Christ's love is a not about celebrating the joys of Orthodoxy and ignoring the sorrows. Real love embraces both and unites joy and sorrow together, transforming them into something beautiful.
Orthodoxy is never convenient. It is a deliberate choice to live a life of sacrifice and to stand out in a manner that draws the scorn of those in power. To live as an Orthodox Christian is to be marked by the world.
Honoring the memory of the 14,000 children slaughtered by King Herod on December 29th reminds Orthodox Christians that The Word Made Flesh carries a real cost that all of us must take responsibility for. Too many of our brothers and sisters bear that cost with their lives, and too many human lives are extinguished before they can even begin to blossom. For those of us who have the blessing to live in safety and practice our faith freely, let us commit ourselves to living the Nativity in its fullness, and, in doing so, embody the words of St. Ignatius of Antioch who boldly declared centuries ago that "Christianity shows it greatness when it is hated by the world."




ANDREW ESTOCIN

Andrew Estocin is a lifelong Orthodox Christian. He received his B.A. with a double major in Philosophy and Theology from Fordham University. His writings have appeared in numerous publications including The Albuquerque Journal, Touchstone, Beliefnet.com and The Orthodox Observer. Andrew's work is featured on the The Orthodox Christian Network where he writes on a variety of contemporary issues.
Persecution of Christians has risen for the fourth straight year
"Religious nationalism is sweeping the globe according to figures released today as part of the Open Doors 2017 World Watch List," said Lisa Pearce, CEO of Open Doors UK & Ireland.
"Persecution levels have been rising rapidly across Asia and the Indian subcontinent, driven by extreme religious nationalism which is often tacitly condoned, and sometimes actively encouraged, by local and national governments."
On Wednesday, the group Open Doors released its annual World Watch List on the state of global persecution of Christians. The list ranks the countries where the worst persecutions of Christians are taking place based on information gathered from field workers and "independent experts."
Open Doors was founded in 1955 by a Dutchman named Brother Andrew who smuggled Bibles into Communist Eastern Europe. Since then, the organization has grown to aid Christians in 50 countries by sending them Bibles and other needed materials, and speaking out for their well-being.
Overall persecution of Christians has risen from last year, Open Doors UK noted, stating that "Christians are being killed for their faith in more countries than before."
"Christians living in these countries need the support of their family, the body of Christ, to help them stand firm in their faith," they stated.
Pakistan had the most fatal attacks against Christians, "even more than Northern Nigeria," the report noted. Mexico also saw a violent spike in the killings of 23 Christian leaders in 2016, including the abductions of several priests. The country has seen 15 priests killed since the election of current President Enrique Pena Nieto in 2012.
For the 16th consecutive year, Communist dictatorship North Korea was determined to be the "worst place on earth for Christians," Open Doors UK said. There are 300,000 Christians amidst the population of 25.4 million.
Christians there suffer from a totalitarian police state that closely monitors their actions and requires them to worship the ruling family, the report said. They must pray privately. Those discovered by the state to be Christian may end up in harsh labor camps where an estimated 50-75,000 Christians currently suffer.
"Every day was as if God was pouring out all ten plagues on us simultaneously," revealed one Christian women who was held captive in the camps but escaped. "That's how hard it was. But God also comforted me and brought a secret fellowship into existence. Every Sunday we would gather in the toilets and pray."
All top 10 countries with the worst persecution of Christians are in Asia and Africa. Somalia ranks second on the list, followed by Afghanistan, Pakistan, the Sudan, Syria, Iraq, Iran, Yemen, and Eritrea.
Somalia, ranked the second-worst country for persecution of Christians, "has persecution levels nearly as high as in North Korea," Open Doors UK noted.
"Islam is Somalia's state religion and all Christians come from a Muslim background," they explained, meaning that for converts to Christianity, if their conversion is discovered, it can mean persecution and even a "rushed beheading."
"If a Christian is discovered in Somalia, they are unlikely to live to see another day," Lisa Pearce stated. There are only hundreds of Christians in the country with a population of over 11 million.
At least 12 Christian converts were killed in Somalia in 2016, the report said. The country is ruled by a "tribal system" and is "basically lawless," which means that entities like the militant group al-Shabaab can "persecute Christians with impunity."
Afghanistan is number three on the list, another tribal country where being a Christian is illegal. The Islamic republic of Pakistan is fourth, where more Christians were recorded as killed for their faith in 2016 than any other country. There are almost 4 million Christians there amidst the population of over 196 million.
An estimated 700 Christian women and girls were abducted in 2016, many of them raped and forced to marry Muslim men. The country's strict blasphemy laws – which carry a death sentence – enable mob violence against Christians and accusations of blasphemy committed with impunity.
Persecution of Christians has had a disturbing increase in Asia, Open Doors noted, including in the world's second-most populated country of India where there are 15 attacks against Christians every week, and probably more than that number since some attacks are not reported by fearful victims.
There were "at least ten" abductions of Christians there in 2016, ten rapes of Christian women, and over 800 physical attacks on Christians, the report said. Laos, Bangladesh, and Vietnam have also seen greater persecution of Christians by religious nationalists.
In the Middle East, Christians have been "caught in the crossfire" of wars in Yemen, Syria, and Iraq. "The Saudi-backed civil war in Yemen has reduced the country to a waste land, with many Christians caught in the crossfire, such as the 16 people killed in an attack on a Christian care home for the elderly and disabled," the report said.
Other problems of persecution include Islamic extremism in sub-Saharan Africa, and attempts to destroy the homes of Christians who have been driven away by violence, in the hopes that they permanently resettle elsewhere
.