ROME — On Friday, a colleague and I took an old friend out to lunch in one of my favorite Roman restaurants. The friend is Bishop Borys Gudziak, who leads the Ukrainian Greek Catholic Church in Paris, and also serves as president of the prestigious Ukrainian Catholic University in Lviv.
It's the only Catholic university in the former Soviet sphere — as they like to say, the only Catholic university "between Poland and Japan."
Founded on the twin pillars of the martyrs and the marginalized, I once called it the "future of the new evangelization."
Toward the end of lunch (for the record, rigatoni alla norcina with a lovely white wine), Gudziak looked at us and said something like: "This has been a great meal, and I thank you for it. Let's not forget, however, that millions of people in this world live in extreme poverty, and could never dream of affording something like this."
Honestly, my unspoken reaction was, "You're a great guy, Borys, but you can be a real downer sometimes."
"Almost half of the world lives with less than what a cappuccino costs in this neighborhood, less than two euros a day, and 80 percent of the world lives on less than $10 a day," he said, with rising intensity in his voice. "There's 150 million homeless people, 100 million orphans, 60 million refugees."
"Those," he said, "are impediments to good family life."
A group of migrants waited to cross the border between Serbia and Croatia, near the village of Berkasovo, about 100 km west of Belgrade, Serbia, Oct. 17, 2015. Croatia has been sending migrants toward Slovenia after Hungary closed its border with Croatia. (AP Photo/Darko Vojinovic)
Gudziak was making a point about the Oct. 4-25 Synod of Bishops on the family, a keenly anticipated and somewhat tumultuous summit convened by Pope Francis that my colleagues and I are covering right now and in which Gudziak is taking part.
A migrant prayed in a field near the border between Serbia and Croatia, near the village of Berkasovo, about 100 km (62 miles) west of Belgrade, Serbia, Oct. 18, 2015. (AP Photo/Darko Vojinovic)
UK bishops urge government to host more refugees
Cardinal Pell rejects conservative call for a walkout at Synod of Bishops
Cardinal Francis Arinze of Nigeria (YouTube/ Augustine Institute)
A synod conversation with Catholic Africa's lion in winter
The synod is entering its final week, and has been marked by controversies over both process and substance.
Some critics, mostly conservatives suspicious of Pope Francis' Vatican team, have charged that the deck is stacked in favor of progressive positions, with one coalition going so far as to petition "faithful" bishops to walk out.
While bishops taking part say most concerns about process floating around at the beginning have been resolved, doubts in some quarters remain.
In terms of substance, there's division over a proposal to relax the Church's traditional ban on divorced and civilly remarried Catholics receiving Communion. There's also a clash over whether Catholicism needs more positive and inclusive language about homosexuality, or whether getting too far away from traditional formulas risks confusion about Church teaching.
In related fashion, there are contending positions over whether these issues have to be resolved in Rome, or whether they could be decentralized by placing them in the hands of national or regional conferences of bishops.
In that context, Gudziak was making a simple observation: Those are important questions, no doubt, but let's keep our eyes on the prize.
If we want to talk about issues facing the family today, he was saying, there's a much bigger picture, and becoming consumed by inside ecclesiastical baseball isn't a prescription for seeing it clearly.
Those big-picture issues are legion, but here are a couple of illustrative examples.
Migrants and refugees: The synod is taking place in Europe as the continent struggles with its most massive refugee crisis since World War II. Pope Francis has called on all Catholic facilities in Europe to open their doors to at least one refugee family, and has done so himself at the Vatican.
Yet there's been strikingly little conversation at the synod about whether that's actually happening all across Europe, and whether it ought to be replicated in other zones of the world. One African bishop pointed out that nations such as Ethiopia, Kenya, Tanzania, Uganda, Malawi, and Zambia are now home to "massive numbers" of migrants and refugees, but it's not clear the synod is fashioning a new Catholic strategy for responding.
A migrant prayed in a field near the border between Serbia and Croatia, near the village of Berkasovo, about 100 km (62 miles) west of Belgrade, Serbia, Oct. 18, 2015. (AP Photo/Darko Vojinovic)
A migrant prayed in a field near the border between Serbia and Croatia, near the village of Berkasovo, about 100 km (62 miles) west of Belgrade, Serbia, Oct. 18, 2015. (AP Photo/Darko Vojinovic)
War: Francis has said repeatedly that we're in the middle of a new world war in the early 21st century, being fought in piecemeal fashion. Pastors on the front lines of that war have tried to get the synod's attention, so far with mixed results.
Patriarch Ignace Youssif III Younan of Lebanon, for instance, spoke passionately about the nightmares currently playing out in Syria and Iraq, saying that Christians in particular "want to get out of this hell because they are persecuted, taken hostage, by the ISIS terrorist state."
Gudziak pointed out that more than 5 million people are currently being affected by the conflict in eastern Ukraine, which he sees in terms of Russia trying to prevent a civic uprising against authoritarianism in Eastern Europe from spreading.
It's not clear, however, that the synod has yet identified new ways to mobilize the Church's considerable human and political capital to support families in conflict zones.
As the synod enters its final week, it's now crunch time. The bishops have to move toward a set of votes on Saturday on a document containing recommendations to Pope Francis, which means they have to get down to brass tacks on the divisive issues. Ultimately, it will be up to Francis to decide what to do about whatever they propose.
The bishops might also want to frame this week, however, as a final opportunity to stand back and ask what they might have missed. If not, they may find themselves accused of having spent the synod's three weeks fiddling, while every place other than Rome burns.
The Synod of Bishops struggles to recover its 'gentlemen's agreement'
Now, here's some of that inside ecclesiastical baseball.
This past week, a controversy broke out over reports of a letter to Pope Francis signed by several high-ranking cardinals, such as Australia's George Pell and America's Timothy Dolan, raising concerns about the process at the Synod of Bishops. It came at the very beginning, and both Pell and Dolan now say they believe those concerns have more or less been laid to rest.
In the background of the letter was a perception lingering from the last summit on the family in October 2014 that there had been an effort by synod officials to control the information flow, creating a false impression of consensus in favor of progressive stances and minimizing conservative dissent.
One of the signatories to the letter, German Cardinal Gerhard Müller, the Vatican's powerful doctrinal czar, told a reporter this week that the leak of the letter was intended to "spread arguments and create tensions."
(In truth, most people following the two synods on the family would say they didn't really need any help on that front.)
As "letter-gate" was breaking out, I and my Crux colleague Michael O'Loughlin sat down with Cardinal Donald Wuerl of Washington, DC, who is a veteran of many Vatican synods and is currently serving on a 10-member committee to draft this summit's final document.
I asked Wuerl to compare this synod to past sessions in which he's taken part, and he didn't mince words in expressing his sense of things.
"The single biggest difference is that unfortunately we all came to this synod with a hermeneutic of suspicion already floating out there," he said, created by "the number of things published beforehand claiming that somehow this wasn't going to be an open and fair synod."
("Hermeneutic" is a popular term in Church-speak, meaning a way of interpreting things.)
Wuerl said that in his view, changes to the process introduced by Pope Francis have made the synod remarkably "open," but acknowledged that not everyone sees it that way.
"Everything looks yellow to the jaundiced eye," he said. "If you start with the idea of a conspiracy," Wuerl said, then you end up seeing evidence of it everywhere.
To be clear, he wasn't just talking about pundits and agitators outside the synod. He also meant some of the bishops taking part.
"There are people inside the synod who talk about this," he said. "The media didn't create these stories."
Wuerl said that past synods had their flash points and divisions, too, but there was a sort of gentlemen's agreement among the bishops "not to begin pointing the finger at others," and to do their best to stay together.
Now, he suggested, that gentlemen's agreement may not be in tatters, but it's definitely frayed.
"I think that's going to be one of the wounds to this synod," he said.
Later in the week, I had the opportunity to ask Pell, who heads the Vatican's Secretariat for the Economy, for his view on where the earlier gentlemen's agreement among the bishops now stands.
"Let me just say this: all the bishops are gentlemen, but that's defined differently in different cultures," he said, laughing.
Pell argued that if there was a "hermeneutic of suspicion" coming into this synod, it didn't drop out of a clear blue sky, but was based on perceptions left over from the last one.
"I think in the last synod, there were some rather surprising developments," Pell said. "I think Pentin's account of the last synod, his suggestions and accusations, are substantially unanswered."
(Edward Pentin is a Rome-based journalist who recently authored an e-book titled "The Rigging of a Vatican Synod?" about claims that the 2014 synod was manipulated to promote a progressive outcome.)
"In think it's in the light of those charges that people approach this synod," Pell said.
What all of this illustrates is the critical importance of the final document the Synod of Bishops on the family will produce, which is scheduled to be put before the 270 bishops taking part next Saturday for what Pell said will be paragraph-by-paragraph votes on its content.
If the impression is that the document honestly and fairly presents the results of synod discussions – pointing to consensus where it exists, but also candidly acknowledging areas where it simply wasn't there – then perhaps the "hermeneutic of suspicion" will begin to ebb.
If not, the death of the gentlemen's agreement among the bishops could become a permanent feature of the Pope Francis era in Catholicism, and not just during occasional summits in Rome. That's probably not in anyone's interest – beginning, of course, with Pope Francis himself.
Drafting committee cardinal: Synod will not provide Communion path for remarried
ROME One of the prelates responsible for drafting the final document from the ongoing Synod of Bishops has said he does not anticipate that it will propose changes in the Catholic church's practices towards the divorced and remarried.
Indian Cardinal Oswald Gracias -- one of ten prelates who co-drafted the document after three-weeks of intense deliberations among some 270 bishops at the Oct. 4-25 Synod -- said in particular that one specific proposal that might have allowed the remarried to take Communion would likely not be mentioned.
That proposal would have suggested that the church could use what is called the "internal forum" to allow some remarried persons to take the Eucharist on a private, case-by-case basis after seeking guidance, advice, and then permission from priests or bishops.
"I don't expect that," said Gracias, speaking in an NCR interview Thursday. "I think this has got to be studied."
"I don't think we're ready as yet," said the cardinal. "The matter has not been sufficiently analyzed in depth. We all know, all the bishops know, that this is a possibility. But we've never focused on that."
Francis-cartoon-book.jpgNow available: The Chronicles of Francis, the Cartoon Strip, featuring cartoons from the popular series Francis.
"Now, with the pope's giving more power to the bishops for annulments I think the next step could be letting bishops take responsibility also for training the consciences of people," he continued. "That is essential in internal forum solutions."
"It's in keeping with church teaching, so it is not something totally new," he said. "Yet, this internal forum solution should not be randomly used by everybody. That's the danger."
"I do think we must study it, certainly," said Gracias. "That's why I don't think the document would have it. I don't think we're ready yet to have a consensus on this matter, and it would be not good to have the Synod divided on this matter at the moment."
The Synod of Bishops is a worldwide meeting of Catholic prelates called by Pope Francis to consider issues of family life. It is addressing a wide range of topics, but much analysis has focused on whether the bishops might decide to change church practice towards the divorced and remarried.
Remarried persons are currently prohibited from taking Communion in the church unless they receive annulments of their first marriages. Gracias referred to changes Francis made to the annulment process in September.
Speculation before the Synod focused on the possibility for a so-called "penitential path" for the divorced and remarried that might allow them to eventually take Communion. At least two of 13 small discussion groups meeting at the Synod suggested use of the internal forum as a way to perhaps provide a concrete method to possibly enact that path.
Catholic teaching says that acts of governance in the church can take place either in an internal or external forum. The internal forum is the forum of conscience, where a decision is made in private counseling with a priest without a formal decree or any sort of publicity.
Gracias' remarks on the matter came during a 20-minute interview Thursday that also saw the cardinal discuss the process for drafting the Synod document, give his view on the possibility that more power will be given to bishops' conferences, and speak about the way church teaching develops.
Speaking about the drafting of the Synod document, the cardinal said he and the other members of the drafting committee wanted to provide a document that could attract wide consensus from the gathered prelates.
"I feel ... that it would be a failure on the part of the drafting committee if we can't get a large consensus, and to get a feel of the House and to say this is what the House wants," said Gracias, referring to the Synod meeting.
The cardinal also said that the effort at consensus might mean the document "won't be as strong" as it may have been otherwise.
"That's why I said we won't have the answers, because the answers won't be acceptable to everybody," said Gracias. "Some bishops would say we have the answer to this problem, others would say no."
"We hope that gradually there will be consensus," he said. "And this way, we fulfill our role in three weeks of presenting the Holy Father the problems and how to go ahead. He's got to decide exactly how he takes it forward."
"We're struggling," said Gracias, speaking of the Synod process. "We're grappling with the situation ... struggling between mercy and justice, and mercy and truth -- and how to combine the two, showing the compassion of Jesus and yet being faithful to the teaching."
The bishops at the Synod were presented with a draft of the final document Thursday afternoon, and discussed it in open session Friday morning. They are expected to submit amendments to the text Friday afternoon before having final votes on the document Saturday.
Asked about the interplay between the church's understanding of mercy and justice -- sometimes seen as opposite approaches to how bishops should handle difficult situations like pastoring to divorced and remarried persons -- Gracias said there is sometimes a fear among Catholics about stressing mercy too much over justice.
"I'm asking myself, 'Is this a reaction to Pope Francis' insisting on mercy?'" said the cardinal. "Maybe it is. He insists on mercy so much, compassion so much, people say, 'Now, put the brakes on because let's not forget that there's justice, also.'"
"I often wonder: Do I have the right to decide how much mercy to give?" said Gracias. "Do I have the right? As a bishop, can I say, 'No, no, you can't do this.' I don't know."
"I keep asking myself, 'What would Jesus do?'" he said. "What would our Lord do in these circumstances?"
Speaking about conversations at the Synod about whether bishops' conferences could play a larger role in handling questions of authority, Gracias widely said he would be in favor of such a move.
"I think the pope wants to decentralize and give bishops' conferences more and more power," said the cardinal, who also leads the pan-Asian regional conference of bishops called the Federation of Asian Bishops' Conferences.
"There is one basic question being raised every now and then, the Congregation for the Doctrine of the faith studied it: Do the bishops' conferences have theological status or not?" he continued.
"The answer was no, really, at that time," he said. "But I think that maybe that was not still the last word. We've got to still to see what are the bishops' conferences -- just associations of people who come together to share their problems and their situations? No, I think it's more than that now."
"The Code of Canon Law has given a little authority to the conferences to decide certain decisions," said Gracias. "Perhaps that can be expanded. I think the pope ... certainly is giving his indication with what he said. He would be inclined to give bishops' conferences more power, and that's for the good."
"I think it can be worked out theologically," he said. "I see a way forward."
Gracias gave three examples of work bishops' conferences could be entrusted to do, saying they could perhaps handle marriage tribunals, clergy sexual abuse cases currently referred to the Vatican's Congregation for the Doctrine of the Faith, and even help in the selection of bishops.
Regarding sexual abuse cases, the cardinal said: "I think [bishops' conferences] should take more responsibility because that's far too heavy to have one office in Rome handling all the cases in the world. It's practically, logistically, impossible."
"Bishops' conferences could also, I think, in the future -- I'm not saying they would decide -- assist more, have a greater role in the choice of bishops," said Gracias, who is also a member of the Council of Cardinals advising the pope on reforming the Vatican. "That's a very crucial decision for every church and bishops' conference."
Gracias also spoke about the development of church teaching, making a distinction between what he called theological principles and ecclesiastical discipline.
"Ecclesiastical discipline is church law, and these practical things can change and can become flexible to different situations," said the cardinal. "Theology remains. Our Lord taught indissolubility. That will not change. But then ... does it mean that all people who are divorced and remarried cannot receive Communion?"
Asked about those who have expressed fear over the possibility that the church might change certain teachings, Gracias said some people want "to hang onto something, to feel secure."
"The faith remains the faith," said the cardinal. "Our Lord Jesus Christ remains firm. The faith is firm, the church is firm, and doctrine is firm."
"And yet, there should be nuances to new problems," he said.
"I do understand the anxiety of people," said Gracias. "If you fought for something a long time and all of a sudden you feel that it's not a core value, you say, 'Why did I do all this?' I understand. Yet, we should catechize our people. We should have a deeper understanding."
[Joshua J. McElwee is NCR Vatican correspondent. His email address is jmcelwee@ncronline.org. Follow him on Twitter: @joshjmac.]
Metropolitan Hilarion of Volokolamsk speaks at General Assembly of the Synod of Bishops of the Catholic Church in Vatican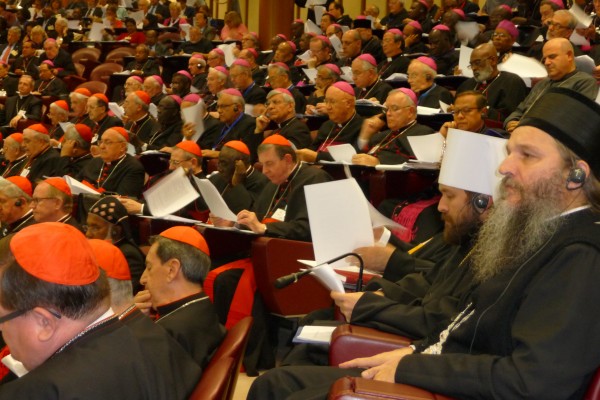 my source: pravmir.com
Metropolitan Hilarion was met at the airport by H.E. Alexander Avdeyev, Ambassador of the Russian Federation to the Holy See; archimandrite Antony (Sevryuk), secretary of the Administration of the Moscow Patriarchate's parishes in Italy; Rev. Hyacinthe Destivelle of the Pontifical Council for Promoting Christian Unity; and Rev. Alexiy Dikarev of the DECR Secretariat for Inter-Christian Relations.
On October 20, at the Paul VI Audience Hall in Vatican City where the Synod holds its sessions, the plenary session chaired by Pope Francis opened with Metropolitan Hilarion's greetings. Speaking about challenges and threats to the family in the contemporary world Metropolitan Hilarion underscored that the Christian Churches should "seek out answers to them, proceeding from the mission that Christ has placed upon them – to bring humanity to salvation" and regretted that certain communities, which call themselves Christian, distort the teaching on the family and marriage under the influence of the secular world and are prepared to abandon their Christian identity. Under the circumstances the position of the Catholic and Orthodox Churches which remain faithful to the traditional teaching on the family "should be ever more strengthened and unanimous. We should defend it jointly both within the framework of dialogue with the legislative and executive branches of power of various countries, as well as in the forums of international organizations to ensure by all means possible that the family is legally protected."
Greeting Metropolitan Hilarion during the session were Pope Frances; Cardinal Pietro Parolin, State Secretary of the Holy See; Cardinal Bechara Al-Rai, Patriarch of the Maronite Church; Cardinal Kurt Koch, President of the Pontifical Council for Promoting Christian Unity; Archbishop Vincenzo Paglia, President of the Pontifical Council for the Family; other members of the Synod, as well as representatives of the Non-Catholic Churches and communities.
Attending the Synod's sessions are observers from the Patriarchates of Constantinople, Moscow, Serbia and Romania, the Orthodox Church of Albania, the Coptic and Jacobite Syrian Churches, the Anglican Communion; the Lutheran World Federation, the World Methodist Council, the Christian Church (Disciples of Christ), the Baptist World Alliance and the World Evangelical Alliance.




The 14th Ordinary General Assembly of the Synod of Bishops of the Catholic Church will complete its work on October 25.
Pope Francis chats with Cardinal Philippe Nakellentuba Ouedraogo (R) as he arrives to lead the synod on the family in the Synod hall at the Vatican, October 23, 2015.
Conservatives prevail on gay issues at Vatican synod
Roman Catholic bishops have agreed after three weeks of closed-door debate at the Vatican to soften their line towards divorced couples, a leading participant said, but not to relax the Church's strict doctrine on homosexuality.
The outcome of the gathering, known as a synod and presided over by Pope Francis, appeared to mark a victory for conservatives and a failure for reformers who had hoped for more inclusive language towards gays.
The final document from the meeting was due to be released later on Saturday.
"It is a document of consensus. You will not find much about homosexuality in this document. Some people will be disappointed," Cardinal Christoph Schoenborn of Vienna told a news conference
He said the document spoke of homosexuals only in the context of families that have a gay member and how to "manage this situation as Christians ... that is all that has remained about homosexuality".
On the other hand, he said, it would offer hope for the full re-integration into the Church of some divorced and remarried couples.
His comments indicated that the assembly had decided to avoid controversial language in order to avoid deadlock on the most sensitive topics, leaving it up to the pope to deal with them in a future document.
During the synod, some bishops said the 1.2 billion-member Church should use introduce welcoming and inclusive language regarding homosexuals.
But Schoenborn said many of the 270 bishops felt homosexuality was still "too delicate a theme" in their countries. During the meeting, African bishops were particularly adamant in their opposition to welcoming language regarding homosexuals, saying it would only confuse the faithful.
"This does not mean that it is not an important topic for the Church in Europe and North America, but on a universal level, you have to respect political and cultural situations," he said.
At a preliminary meeting a year ago, conservative clerics made sure an interim report deleted a passage they thought was too welcoming to gays.
Schoenborn, who is a progressive, said the synod document would effectively re-state Church teaching that while homosexual tendencies are not sinful, homosexual acts are.
"The doctrine is clear," Schoenborn said. "And there is no need to repeat it."
Another contentious topic discussed at the synod was how to minister to the large number of Catholics with failed first marriages who have divorced and remarried in civil ceremonies.
Under current Church doctrine they cannot receive communion unless they abstain from sex with their new partner because their first marriage is still valid in the eyes of the church and they are seen to be living in an adulterous state of sin.
Some bishops said that the doctrine could be modified so that priests or bishops could give individual Catholics permission to receive communion after personal spiritual counseling.
Schoenborn suggested that the final document would offer some opening to such couples on a case-by-case basis.
"It gives the fundamental criteria for the discernment of situations. This is the most important point. Seeking a yes or no answer is a false question because various situations are so different," he said.
This appeared to be a qualified victory for progressives. Conservatives said there should be no change in church doctrine because it would violate Jesus' teaching that marriage is indissoluble.
(Reporting by Philip Pullella; Editing by Mark Trevelyan)
Pope's family synod: No changes, but everything has changed Associated Press
Pope Fancis leaves the Synod
VATICAN CITY (AP)
— Catholic bishops called Saturday for a more welcoming church for cohabitating couples and Catholics who have divorced and civilly remarried, endorsing Pope Francis' call for a more merciful and less judgmental church.
Bishops from around the world adopted a final document at the end of a divisive, three-week synod that exposed the split in the church between conservatives and progressives over how to better minister to Catholic families today.
In a win for the progressive camp, the document emphasized the role of discernment and individual conscience in dealing with difficult family situations, especially the vexing issue of whether civilly remarried Catholics can receive Communion.
Conservatives had resisted offering any wiggle room on the issue, since church teaching holds that such Catholics are committing adultery and are therefore barred from receiving the sacraments. While the document doesn't chart any specific path to receiving Communion as originally sought by the liberals, it opens the door to case-by-case exceptions.
"We are so happy that we could give this to the pope," said German Cardinal Reinhard Marx, who spearheaded the progressive camp on the issue. He called the document a "historic step."
The Rev. James Martin, a Jesuit author, said discernment and the examination of one's conscience in spiritual direction have always been part of the church's tradition. "But its encouragement by the synod is notable, and should be seen as a welcoming gesture," he said.
Martin explained that discernment — a key concept in Francis' Jesuit spirituality — "relies on the idea that God can deal directly with us, through our inner lives. It is another encouragement to remind people, especially remarried Catholics, that an informed conscience is, as the church has always taught, the final moral arbiter."
The three paragraphs dealing with the issue barely reached the two-thirds majority needed to pass, but conservatives couldn't muster enough votes to shoot them down. The most controversial paragraph 85 — which says a case-by-case approach is necessary when dealing with remarriage since not everyone bears the same responsibility for the preceding divorce — only cleared by a single vote.
But the document's passage overall will give Francis the room to maneuver that he needs if he wants to push the issue further in a future document of his own. Marx said he hoped that Francis would issue it during his upcoming Jubilee Year of Mercy, which starts Dec. 8.
In a final speech to the synod, Francis took some clear swipes at the conservatives who hold up church doctrine above all else, saying the church's primary duty isn't to condemn or judge but to proclaim God's mercy and save souls.
Francis said the synod had "laid bare the closed hearts which frequently hide even behind the church's teachings and good intentions, in order to sit in the chair of Moses and judge, sometimes with superiority and superficiality, difficult cases and wounded families."
"The synod experience also made us better realize that the true defenders of doctrine are not those who uphold its letter, but its spirit; not ideas but people; not formulas but the free availability of God's love and forgiveness," he said.
But in a bit of levity, Francis also included an acrostic in the footnotes of his speech — perhaps a papal first — spelling out "Famiglia" (family in Italian) with poetic descriptions for each letter.
In a clear sign that the conservatives had failed to shut the door on the Communion issue, an umbrella group of 26 conservative pro-life organizations said in a statement late Saturday that there was now a "crisis of trust" in the church over the vote.
"Only the pope can restore trust between Catholic laypeople and church authorities in Rome," the group said in a statement.
The document was the culmination of a two-year process launched by Francis to put in practice his call for a church that is more a "field hospital for wounded souls" than an exclusive club for the perfect.
The bishops took his direction, finding "positive elements" in couples who live together even though they are not married. Rather than condemning these couples for living in sin, the document says pastors should look at their commitment constructively and encourage them to transform their union in a sacramental marriage.
On gays, the synod document repeats church teaching that gays should be respected and loved and, in a novelty, says families with gay members require particular pastoral care. However, the document strongly rejects gay marriage and "gender theory," but omits references to church teaching that homosexual acts are "intrinsically disordered."
Only the 275 synod "fathers" were allowed to vote — none of the handful of women invited to participate — even though one of the "fathers" with voting rights wasn't even a priest, much less a bishop.
Brother Herve Janson of the Little Brothers of Jesus told reporters he considered refusing to accept the invitation to participate, given that his status in the church is the same as a sister who heads a religious order of nuns.
"I was very upset, because while before the distinction (between voting and non-voting members) was between the clergy and laity, now it has become between man and woman," he said.
It wasn't clear if Francis intended to raise the issue of broader participation in the synod by letting Janson vote, or if his role was a one-time anomaly.
Francis took some of the most divisive wind out of the debate before the synod began by passing a new law making it easier for divorced couples to obtain an annulment, a church declaration that their marriage was invalid. That was aimed at answering a complaint by generations of Catholics who have been denied the sacraments because they divorced and remarried outside the church without an annulment.
The synod was about far more than just contentious issues, however, including how the church should provide better marriage preparation to couples and how to encourage families torn by migration, poverty and war to persevere in their faith.
___
Follow Nicole Winfield at www.twitter.com
Related Stories
Vatican synod on family ending amid divisions Reuters
Stormy synod ends in stalemate: over to you, Pope Francis AFP
Over to you Pope Francis, as bishops wrap up stormy synod AFP
VERY IMPORTANT - following videos