And in this he showed me a little thing, the quantity of a hazel nut, lying in the palm of my hand, as it seemed. And it was as round as any ball. I looked upon it with the eye of my understanding, and thought, 'What may this be?' And it was answered generally thus, 'It is all that is made.' I marveled how it might last, for I thought it might suddenly have fallen to nothing for littleness.
And I was answered in my understanding: It lasts and ever shall, for God loves it. And so have all things their beginning by the love of God. In this little thing I saw three properties. The first is that God made it. The second that God loves it . And the third, that God keeps it."
"It is easier for us to get to know God than to know our own soul... God is nearer to us than our soul, for He is the ground in which it stands...so if we want to know our own soul, and enjoy its fellowship, it is necessary to seek it in our Lord God."
"For as the body is clad in the cloth, and the flesh in the skin, and the bones in the flesh, and the heart in the whole, [34] so are we, soul and body, clad in the Goodness of God, and enclosed."
......deeds are done which appear so evil to us and people suffer such terrible evils that it does not seem as though any good will ever come of them; and we conside this, sorrowing and grieving over it so that we cannot find peace in the blessed contemplation of God as we should do; and this is why: our reasoning powers are so blind now, so humble and so simple, that we cannot know the high marvelous wisdom, the might and the goodness of the Holy Trinity. And this is what he means where he says, 'You shall see for yourself that all manner of things shall be well', as if he said, 'Pay attention this now, faithfully and confidently, and at the end of time you will truly see it in the fullness of joy.
"And I saw that truly nothing happens by accident or luck, but everything by God's wise providence. If it seems to be accident or luck from our point of view, our blindness and lack of foreknowledge is the cause; for matters that have been in God's foreseeing wisdom since before time began befall us suddenly, all unawares; and so in our blindness and ignorance we say that this is accident or luck, but to our Lord God it is not so."
"If there is anywhere on earth a lover of God who is always kept safe, I know nothing of it, for it was not shown to me. But this was shown: that in falling and rising again we are always kept in that same precious love."
"...we need to fall, and we need to be aware of it; for if we did not fall, we should not know how weak and wretched we are of ourselves, nor should we know our Maker's marvellous love so fully..."
See that I am God. See that I am in everything. See that I do everything.See that I have never stopped ordering my works, nor ever shall, eternally. See that I lead everything on to the conclusion I ordained for it before time began, by the same power, wisdom and love with which I made it. How can anything be amiss?"
"God loved us before he made us; and his love has never diminished and never shall."
"All shall be well, and all shall be well and all manner of thing shall be well."
― Julian of Norwich, Revelations of Divine Love
Dame Julian's understanding of the relationship between God's love and his creation is remarkably like the theology of
Ministries of Mercy: Mother Teresa
She stirred a generation by touching the untouchables.
Ruth A. Tucker | posted 1/01/2000
my source: Christian History
Mother Teresa belongs to the whole world—not to Roman Catholics only, not to Christians only. Indeed, she is the first religious figure in history to be revered during her lifetime by adherents of all religions and Christians of all denominations. And when she died in 1997, there was a universal outpouring of heartfelt appreciation and reverence for her long life of service.
Humility, simplicity, and sacrifice are the terms most often associated with Mother Teresa and her work—though many who encountered her personally would quickly add tenacity. And this tenacity was often accompanied by a stern, uncompromising demeanor. She was driven by an unswerving conviction that she was called by God to reach out to the poorest of the poor, and this conviction left little room to entertain the objections of government officials, church authorities, or even military leaders.
In a famous televised scene from 1985, she insisted that a government minister from Ethiopia give her Missionaries of Charity two unused buildings to be made into orphanages. With cameras rolling, the minister balked but finally had no choice but to capitulate. Pop singer Bob Geldorf, in Ethiopia as part of his Band Aid campaign, witnessed this exchange in the Addis Ababa airport and remarked, "There was a certainty of purpose which left her little patience. But she was totally selfless; every moment her aim seemed to be, how can I use this or that situation to help others?"
Mother Teresa of Calcutta was born Agnes Gonxha Bojaxhiu in Albania in 1910. Her father was a businessman whose death when she was 9 years old left the family in difficult financial circumstances. But their faith sustained them. With her mother and brother and sister, Agnes attended church every day, and she sang in the church choir. Her widowed mother, though nearly destitute herself, volunteered in the neighborhood, caring for an invalid alcoholic woman and later taking six orphaned children into her own home. It was a model of servanthood that did not go unnoticed by young Agnes.
At age 12, Agnes sensed God calling her to his service, but she struggled with how she could know for certain. She prayed and talked with her mother and sister, but she had no real peace. Then she talked with her Father confessor. "How can I be sure?" she asked. He answered, "Through your joy. If you feel really happy by the idea that God might call you to serve him, then this is the evidence that you have a call. The deep inner joy that you feel is the compass that indicates your direction in life."
"By blood and origin, I am all Albanian. My citizenship is Indian. I am a Catholic nun.
As to my calling, I belong to the whole world. As to my heart, I belong entirely to Jesus."
—Mother Teresa
The joy of serving God stayed with her, and in 1929, at age 19, she was in Calcutta preparing to become a teacher and a nun. From the beginning, she was concerned for the poor, but for two decades, her assigned ministry was in the classroom—primarily at the Loreto Convent, where she taught geography to schoolgirls. She loved her students and they loved her, and soon they were joining her on weekends as she went into the streets to care for the sick and the hungry.
Mother Teresa's call to devote herself entirely to serving the poor came suddenly. It was a clear call from God, she insisted, not pity for the poor. And it was a call that was not easily answered in the affirmative: "To leave Loreto was my greatest sacrifice, the most difficult thing I have ever done," she later reflected. "It was much more difficult than to leave my family and country to enter religious life. Loreto meant everything to me."
She experienced the call in 1946 while traveling to a Himalayan retreat:
"It was on that train that I heard the call to give up all and follow him into the slums—to serve him in the poorest of the poor. … I was to leave the convent and work with the poor while living among them. It was an order. I knew where I belonged, but I did not know how to get there."
At 38 Mother Teresa left the security of the Loreto community and exchanged her black and white nun's habit for garb of the street—a white and blue sari. With permission from the pope a year later, a new religious order was born. All of the members were required to take the three basic vows of poverty, chastity, and obedience, as well as an additional a vow of pledging service to the poor, whom Mother Teresa spoke of as the embodiment of Christ. The nuns were not cloistered, and there was no vow of silence. They lived simply, shared work equally (Mother Teresa helped with the daily washing until she was too feeble to do so), and served the dying and destitute with food, medical supplies, and companionship—whatever they needed most.
Mother Teresa was sometimes challenged about the long-term effects of her humanitarian ministry. For example, she was asked, why give people fish to eat instead of teaching them how to fish? She had a quick response: "But my people can't even stand. They're sick, crippled, demented. When I have given them fish to eat and they can stand, I'll turn them over and you give them the rod to catch the fish."
She was quick to emphasize, however, that she gave people more than "fish." Equally important was that which came from the heart—love and joy. The poor, she insisted, deserve more than just service and dedication: "If our actions are just useful actions that give no joy to the people, our poor people would never be able to rise up to the call which we want them to hear, the call to come closer to God. We want to make them feel that they are loved."
In 1952, four years after she left Loreto community, she opened Nirmal Hriday ("Pure Heart"), a home for dying and destitute people in Calcutta. In the decades that followed, she extended her work to five continents. The first 20 years of the ministry passed essentially unnoticed, but that changed quickly in 1969, when she was interviewed by Malcolm Muggeridge for the BBC. A film and a book (both called Something Beautiful for God) by Muggeridge followed, and soon she was on her way to becoming an international celebrity. Special recognition came from Queen Elizabeth and from the U. S. Congress, and even from Harvard University, which granted her an honorary doctorate. In 1979 she was awarded the Nobel Peace Prize. But she was never fully comfortable in the limelight. "For me," she confessed, "it is more difficult than bathing a leper."
Bathing a leper would be her lasting legacy. Of course, she will also be remembered for the international recognition she received, the thousands of nuns who followed her, and the hundreds of homes established around the world. But the image imprinted on the global psyche would be that of a tiny wrinkled old woman reaching out and touching those consigned to the trash heap of humanity.
1910 Agnes Gonxha Bojaxhiu born in Skopje, Macedonia (Albania)
1913 Acclaimed theologian and organist Albert Schweitzer begins medical missionary work in Africa
1929 Sister Teresa arrives in Calcutta
1944 National Association of Evangelicals establishes the War Relief Commission (renamed World Relief in 1950)
1946 United Nations Children's Fund (UNICEF) established
1947 India gains independence from Great Britain
1950 Order of the Missionaries of Charity approved by Pope Pius XII; Bob Pierce founds World Vision
1952 Mother Teresa establishes Nirmal Hriday, her first Home for Dying Destitutes
1961 Peace Corps launched; Amnesty International founded
1966 Brother Andrew takes charge of the Missionary Brothers of Charity, the order's male branch
1969 Malcolm Muggeridge's BBC film Something Beautiful for God brings Mother Teresa worldwide recognition
1979 Mother Teresa wins the Nobel Peace Prize
1985 Band Aid, a charity effort of several popular music groups, raises money for famine in Ethiopia
1997 Mother Teresa dies
In my television interview with Mother Teresa, I raised the point as to whether, in view of the commonly held opinion that there are too many people in India, it was really worth while trying to salvage a few abandoned children who might otherwise be expected to die of neglect, malnutrition, or some related illness. It was a point, as I was to discover subsequently, so remote from her whole way of looking at life that she had difficulty in grasping it. The notion that there could in any circumstances be too many children was, to her, as inconceivable as suggesting that there are too many bluebells in the woods or stars in the sky. In the film we made in Calcutta, there is a shot of Mother Teresa holding a tiny baby girl in her hands; so minute that her very existence seemed like a miracle. As she holds this child, she says in a voice, and with an expression, of exaltation most wonderful and moving: "See! there's life in her!" Her face is glowing and triumphant; as it might be the mother of us all glorying in what we all possess—this life in us, in our world, in the universe, which, however low it flickers or fiercely burns, is still a divine flame which no man dare presume to put out, be his motives never so humane and enlightened.




— BBC journalist Malcolm Muggeridge in Something Beautiful for God
Bl. Mother Teresa and The Merciful Face of Jesus
June 17, 2015
Mother Teresa
photo: Flicker
"Seeking the Face of God in everything, everyone, all the time, and His hand in every happening; This is what it means to be contemplative in the heart of the world. Seeing and adoring the presence of Jesus, especially in the lowly appearance of bread, and in the distressing disguise of the poor." –Bl. Mother Teresa of Calcutta
Many Catholic faithful are hoping and praying for the possible canonization of Blessed Mother Teresa of Calcutta during The Holy Year for Mercy. During the upcoming Jubilee Year of Mercy Pope Francis wants us to "Keep our eyes fixed on Jesus and his merciful gaze, that we may experience the love of the Most Holy Trinity." He calls us to be merciful to others and reflect on the corporal and spiritual works of mercy as a way of awakening our conscience and enter more deeply into the heart of the Gospel so that "we become merciful just as our heavenly Father is merciful." (Lk 6:36)
Blessed Mother Teresa, by her heroic life's witness of seeking the Face of Christ in the "distressing disguise of the poor," perfectly exemplified how Christians can live the works of mercy. When someone would ask her what they could do to serve, she was known for taking the person's hand and touching each finger, she would say, "You-did-it-to-me." "I was hungry and you gave me to eat, I was naked and you clothed me, I was sick and you visited me. Whatever you did to the least of my brethren, you did it to me."
Blessed Mother Teresa's example points out to us the primary task of the Church, which, as Pope Francis urges us, is to be "a herald of mercy," "especially at a moment full of great hopes and signs of contradiction, to introduce everyone to the great mystery of God's mercy by contemplation of the Face of Christ."
The greatest desire of Bl. Mother Teresa was "to satiate the thirst of Jesus by serving him in the poorest of the poor." Though suffering spiritual darkness in her own soul, she allowed the blazing brilliance of Christ's love to radiate through her face to others and she sought continually Jesus' face in those she served. In photograph after photograph of Mother Teresa we can see her looking intensely into the faces of children, the poor, the sick and the dying, while tenderly caressing their faces, searching in their face for the face of her beloved, Jesus. Pope Francis tells us, "We must embrace with tender affection the whole of humanity, especially the poorest, the weakest, the least important, those whom Matthew lists in the final judgment on love: the hungry, the thirsty, the stranger, the naked, the sick and those in prison. " (Mt 25:31) "To love God and neighbor is not something abstract, but profoundly concrete: it means seeing in every person the face of the Lord to be served, to serve him concretely. And you, dear brothers and sisters are the face of Jesus!"
Blessed Mother Teresa heroically carried out the corporal and spiritual works of mercy by being the Merciful Face of Christ to others and by seeing the Merciful Face of Christ in others. Pope Benedict XVI has characterized devotion to the Holy Face as having three separate components:
The first element is discipleship and orientation of one's life towards an encounter with Jesus, to see Jesus in the face of those in need. In order to do this, believers first need to become better acquainted with Jesus through the Eucharist. Mother Teresa's whole being was directed toward this encounter with Jesus in the poor.
The second element is relating to the Passion of Jesus, and the suffering expressed by the images of the wounded Face of Jesus, relating this to the Eucharistic experience.
Jesus Crucified hung on the wall of Mother Teresa's room in Calcutta. It was one of her last sights before dying. She identified completely with the Crucified Jesus. "Jesus, I love with my whole heart, with my whole being, I have given Him all, even my sins, and He has espoused me to Himself in tenderness and love. Now and for life I am the spouse of my Crucified Spouse."
The third element, the Eucharist, is woven between the other two. The eschatological element then builds on awakening to Christ by contemplating His face in the Eucharist. The Eucharist was central to Mother Teresa's mission.

"Seek him in the tabernacle. Fix your eyes on Him who is the Light. Bring your hearts close to His Divine Heart and ask Him to grant you the grace of knowing Him."

She insisted that each Missionary of Charity begin their day in prayerful silence before the Eucharistic Face of Jesus from Whom they drew the strength to serve the poor.
"Jesus gives us two faces," Pope Francis says, "actually only one real face, that of God reflected in many faces, because in the face of each brother, especially the smallest, the most fragile, the defenseless and the needy, there is God's own image. And we must ask ourselves: when we meet one of these brothers, are we able to recognize the face of God in him?"
If we hope one day to see the Face of God we must open our eyes to our neighbor. Pope Benedict XVI has said, "closing our eyes to our neighbor also blinds us to God."
Bl. Mother Teresa, pray for us, help to recognize the Face of Jesus and carry out the "Works of Mercy," so that we too may contemplate "the Living Face of Christ's Mercy."
"Radiating Christ" by Bl. John Henry Cardinal Newman was one of Mother Teresa's favorite prayers…



Dear Jesus, help me to spread your fragrance every I go.




Flood my soul with your Spirit and Life.




Penetrate and possess my whole being so utterly that my life may only be a radiance of Yours.




Shine through me and be so in me that every soul I come in contact with may feel Your presence in my soul.




Let them look up, and see no longer me, but only Jesus!




Stay with me and then I will begin to shine as You shine, so to shine as to be a light to others.




The light, O Jesus, will be all from You; none of it will be mine.




It will be You, shining on others through me.




Let me thus praise You in the way You love best, by shining on those around me.




Let me preach You without preaching, not by words but by example, by the catching force, the sympathetic influence of what I do, the evident fullness of the love my heart bears for You. Amen

.
What Does 'Divine Mercy' Actually Mean?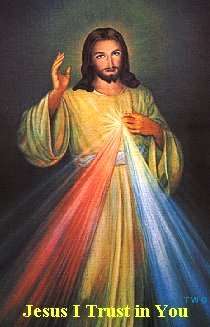 By Dr. Robert Stackpole, STD (Oct 27, 2010)
The following is an excerpt from the book Divine Mercy: A Guide from Genesis to Benedict XVI, by Dr. Robert Stackpole, STD, and published by Marian Press.
Before we can walk through the story of God's merciful love for the human race, we need to have some knowledge of what "Divine Mercy" actually means. The phrase presents us with a semantic problem right from the start. After all, the word "mercy" in contemporary English has a very restricted meaning. It is usually used to refer to an act of pardon, as in "Let me off, judge; have mercy!" or "He threw himself on the mercy of the court." In the Catholic tradition of theology, however, mercy means more than just the cancellation of punishment, far more than that.
Divine Mercy is God's love reaching down to meet the needs and overcome the miseries of His creatures. The Bible, the teachings of St. Thomas Aquinas, and Pope John Paul II all assure us that this is so.
The Old Testament provides us with many images of human misery and of God in His mercy seeking to relieve it. One of most poignant images of such misery is that of a woman suffering the aching loneliness of having no husband and no children — of being completely bereft in the world. This is the spiritual plight of all of us without God. It was used by the Old Testament prophets to signify Israel being reduced to utter misery because of her sins and unfaithfulness to the Lord. But this is not the end of the story. The Lord Yahweh Himself has compassion on the woman by marrying her and making her fruitful. He reaches down to the woman in her misery and raises her up. Where there was only despair, loneliness, and heartache come joy, fruitfulness, and abiding love.
An inspiring example of such steadfast divine love relieving human misery is found in the Old Testament prophet known as Second Isaiah. As he writes, he is encouraging the Jews who are exiles in Babylon not to give up hope that God in His compassion will deliver them:



"Sing, O barren one, who did not bear; break forth into singing and cry aloud, you who have not been in travail! For the children of the desolate one will be more than the children of her that is married, says the Lord. Enlarge the place of your tent, and let the curtains of your habitations be stretched out; hold not back, lengthen your cords and strengthen your stakes. For you will spread abroad to the right and to the left, and your descendants will possess the nations and will people the desolate cities.




"Fear not, for you will not be ashamed; be not confounded, for you will not be put to shame; for you will forget the shame of your youth, and the reproach of your widowhood you will remember no more. For your Maker is your husband, the Lord of hosts is his name; and the Holy One of Israel is your Redeemer, the God of the whole earth he is called. For the Lord has called you like a wife forsaken and grieved in spirit, like a wife of youth when she is cast off, says your God. For a brief moment I forsook you, but with great compassion I will gather you. In overflowing wrath for a moment I hid my face from you, but with everlasting love I will have compassion on you, says the Lord, your Redeemer.




"For this is like the days of Noah to me: as I swore that the waters of Noah should no more go over the earth, so I have sworn that I will not be angry with you and will not rebuke you. For the mountains may depart and the hills be removed, but my steadfast love shall not depart from you, and my covenant of peace shall not be removed, says the Lord, who has compassion on you" (Is 54:1-10).
In the Old Testament, there are two principle Hebrew words that we usually translate as mercy. First of all, there is the word hesed, which means "steadfast love, covenant love." Someone who has the attribute of hesed is someone you can always count on, someone who never lets you down. According to the Catholic Biblical scholar John L. Mckenzie, the word hesed is often used in Hebrew in connection with other words which bring out its meaning, such as hesed-emet (steadfast, dependable love), hesed-sedekah (righteous, holy love) and hesed-yesua (rescuing, saving love). In a remarkable endnote to his encyclical Dives in Misericordia (Rich in Mercy), Pope John Paul II teaches that hesed contains the meaning of faithfulness to oneself, to one's own promises and commitments to others (Thus, Professor Scott Hahn's popular book on the Bible is entitled The Father Who Keeps His Promises). The Holy Father writes:
When in the Old Testament the word hesed is used of the Lord, this always occurs in connection with the covenant that God established with Israel. This covenant was, on God's part, a gift and a grace for Israel ... God had made a commitment to respect it ... [this divine hesed] showed itself as what it was at the beginning, that is, as a love that gives, love more powerful than betrayal, grace stronger than sin (no. 52).
As we have seen in our opening example, in a sense, the whole experience of Israel with God is an experience of His hesed-love (Is 54:10): "For the mountains may depart and the hills be removed, but my steadfast love [hesed] shall not depart from you, and my covenant of peace shall not be removed, says the Lord who has compassion on you." As John L. Mckenzie has written: "The entire history of the dealing of Yahweh with Israel can be summed up as hesed; it is the dominating motive which appears in his deeds, and the motive which gives unity and intelligibility to all His dealings with men" (Dictionary of the Bible).
The second most common word for God's mercy in the Old Testament is the Hebrew word rachamim: tender, compassionate love, a love that springs from pity. Someone who has rahamim is someone who feels for your plight and is moved with compassion to help you. Rachamim is often used in conjunction with hesed. It comes from a root word rechem, which means a mother's womb. Thus, there is a special intimacy and responsiveness about this kind of love, and a special concern for the sufferings of others. The Holy Father sees hesed as, in a sense, a masculine form of love (steadfast, dependable, righteous, being true to oneself and to one's promises), while rachamim is more feminine (tender, responsive, compassionate, like a mother responding in love to the sufferings of her child).
In the New Testament, the Greek word that is usually translated as "mercy" is the word eleos. It can also be translated as loving kindness or tender compassion. The Greek word comes from a root word meaning oil that is poured out. Thus, when the Church sings in her liturgy the Greek words Kyrie Eleison and Christie Eleison, she is praying that the merciful love of God will be poured out upon her children, like holy oil from above. According to the ancient Fathers of the Church, the Church herself was born from the wounded side of Christ, when out of His heart there poured out blood and water, symbolic of all the graces of the two chief Sacraments, Baptism and the Eucharist (Jn 19:34). In short, eleos is God's love poured out upon His people.
In the Latin tradition, the principal word for mercy is misericordia, which means, literally "miserable heart." Father George Kosicki, CSB, the great Divine Mercy evangelist, once summed up the meaning of this Latin word as follows: misericordia means "having a pain in your heart for the pains of others, and taking pains to do something about their pain."
The most comprehensive statement by the Magisterium on the meaning of Divine Mercy can be found in Pope John Paul II's encyclical letter Dives in Misericordia (Rich in Mercy, 1981). In that encyclical, the Holy Father made two very important statements about mercy. First, he wrote, "Mercy is love's second name." Secondly, he taught that mercy is "the greatest attribute of God."
Let us look at each of these statements in turn.
Mercy is Love's Second Name
Here the Pope was not saying anything new. According to the Catholic theological tradition, mercy is a certain kind of love, a certain expression of love.
Love in general might be defined as a sharing and giving of oneself to another, a selfless seeking of the good of another. According to the Polish theologian Ignacy Rozycki:
Traditional Catholic moral theology treats of the virtue of mercy as flowing from love of neighbor. Namely, it is that virtue which inclines us to offer assistance to a person suffering from want or misery. This being so, "mercy" in moral theology ... is not love itself but love's result and extension (quoted in Pillars of Fire in my Soul: the Spirituality of St. Faustina, Marian Press, 2003, p. 95).
Thus, playing games with one's children, or enjoying and sharing conjugal love with one's spouse, or singing the praises of the Lord at Holy Eucharist, while each of these acts would be considered acts of "love" of various kinds, ordinarily we would not call them acts of "mercy." On the other hand, giving bread to the hungry, drink to the thirsty, clothes to the naked, and shelter to the homeless — or indeed bringing the Good News of Jesus Christ to the lost and the broken — these are all acts of merciful love: love reaching down to lift people out of their physical and spiritual miseries.
Mercy is the Greatest Attribute of God
Pope John Paul II wrote in Dives in Misericordia: "The Bible, Tradition, and the whole faith life of the People of God provide unique proof ... that mercy is the greatest of the attributes and perfections of God" (no. 13). As we shall see later in this book, the Pope was reiterating here the teaching of St. Augustine and St. Thomas Aquinas. But we still may want to know how this can be true. How can any of God's perfections be "greater" than any other? According to the Christian philosophical tradition and the definition of God given at the First Vatican Council, God is one, simple, spiritual, infinitely perfect act of Being. He does not have "parts" as bodily creatures do. Rather, each of His perfections — such as His love, His goodness, His power, and His wisdom — is just another name for what He is. The Polish theologian Fr. Ignacy Rozycki explained it like this:
In this sense, all of God's attributes are God, one and the same. For this reason, all are absolutely equal to each other. Divine Mercy is as infinitely perfect as His Wisdom or Power, for it is likewise God, and the same God, just as Divine Wisdom and Divine Power are God (Pillars of Fire, p. 96).




"God loved us before he made us; and his love has never diminished and never shall."
In other words, God does not just do merciful things sometimes, nor does He have a merciful "side" to His character, as a human being might have. On the contrary, He is always and everywhere and at all times merciful. Everything He does is an expression of His Mercy — and of all of His other attributes too, all at once. All of His attributes are eternally in action! But then Fr. Rozycki goes on to write:
If, on the other hand, mercy is understood in the Biblical sense as functional, then, even though it is called an attribute, it first of all denotes the results of the infinite and eternal love of God in world history, and especially in the history of mankind's salvation. In fact, both hesed (mercy in the Old Testament), as well as eleos (mercy in the New Testament) signify active manifestations of God's love toward mankind. In the Old Testament the manifestations found their expression in the calling and directing of the chosen people, and in the New Testament they were found in the sending of the Son of God into the world and in the entire work of redemption. This Biblically formulated relationship between love and mercy is expressed by [St.] Faustina in the words: 'Love is the flower, mercy the fruit' (Diary, 948).
So, if we understand mercy in the Biblical sense, then without any fear of error contrary to the faith, it can be said that mercy is the greatest attribute of God ... [in other words] within this Biblical understanding, the results of the activity of merciful love are the greatest in the world and in this respect, mercy surpasses all other Divine attributes (Pillars of Fire, p. 96).
Another way to express this insight would be as follows: Divine Mercy is supremely manifest in all of God's actions toward mankind, and to show mercy must be the motive and intention behind all of God's actions in the world.
Drawing upon the biblical words for mercy, and upon the magisterial teachings of Pope John Paul II, therefore, let us try to formulate a clear definition of what we mean by "Divine Mercy."
According to the first epistle of St. John, "God is love" (4:8). He is infinite, eternal, self-giving love within His own being, among the Three Persons of the Blessed Trinity — Father, Son, and Holy Spirit. From all eternity, therefore, within His own infinite essence, He enjoys the fullness of love given, love received, and love returned. He enjoyed that fullness of perfect love before He ever made the world — and even if He had never made any world at all, He still would have enjoyed this perfect beatitude of eternal love, for "God is love."
In the infinite, eternal love that He is, in the inner life of the Blessed Trinity, there is no need for "mercy," for there is no "want" or "misery" or "suffering" that needs to be overcome in the Infinitely Perfect Being. What then is Divine Mercy?
Saint Thomas Aquinas defined mercy in general as "the compassion in our hearts for another person's misery, a compassion which drives us to do what we can to help him" (ST II-II.30.1). Divine Mercy, therefore, is the form that God's eternal love takes when He reaches out to us in the midst of our need and our brokenness. Whatever the nature of our need or our misery might be — sin, guilt, suffering, or death — He is always ready to pour out His merciful, compassionate love for us, to help in time of need:
In fact, God's love for His creatures always takes the form of merciful love. As we read in the Psalms (25:10) "all the ways of the Lord are mercy and truth," and again (145:9), "His tender mercies are over all His works."
When He created the world ex nihilo, therefore, and holds it in being at every moment, it is an act of merciful love: His merciful love overcoming the potential nothingness, the possible non-existence of all things.
When the divine Son became incarnate and dwelt among us, that was an act of merciful love too: His merciful love in sharing our lot, showing us the way to the Father, and making the perfect offering for our sins.
When He sends His Holy Spirit into our hearts to refresh and sanctify us, that too is His merciful love: His merciful love pouring into our hearts the power to grow in faith, hope, and love, and to serve him with joy. Psalm 136 says it best. While celebrating all the works of the Lord in creation and redemption, the psalm bears the constant refrain: "for His mercy endures forever" (Robert Stackpole, Jesus, Mercy Incarnate, Marian Press, 2000, p. 112).
Robert Stackpole, STD, is director of the John Paul II Institute of Divine Mercy, an apostolate of the Marian Fathers of the Immaculate Conception. His latest book is Divine Mercy: A Guide from Genesis to Benedict XVI (Marian Press). Got a question? E-mail him at questions@thedivinemercy.org.
Pope Francis' Prayer for Jubilee Year of Mercy
(Vatican Radio) Pope Francis has composed a special prayer for the Jubilee Year of Mercy which will run from 8 December 2015 to 20 November 2016. In the prayer, the Holy Father entreats the Lord to make the Jubilee of Mercy a year of grace so that the Church, "with renewed enthusiasm, may bring good news to the poor, proclaim liberty to captives and the oppressed, and restore sight to the blind."

Below, we publish the text of Pope Francis' prayer:
you have taught us to be merciful like the heavenly Father,
and have told us that whoever sees you sees Him.
Show us your face and we will be saved.
Your loving gaze freed Zacchaeus and Matthew from being enslaved by money;
the adulteress and Magdalene from seeking happiness only in created things;
made Peter weep after his betrayal,
and assured Paradise to the repentant thief.
Let us hear, as if addressed to each one of us, the words that you spoke to the Samaritan woman:
"If you knew the gift of God!"
You are the visible face of the invisible Father,
of the God who manifests his power above all by forgiveness and mercy:
let the Church be your visible face in the world, its Lord risen and glorified.
You willed that your ministers would also be clothed in weakness
in order that they may feel compassion for those in ignorance and error:
let everyone who approaches them feel sought after, loved, and forgiven by God.
Send your Spirit and consecrate every one of us with its anointing,
so that the Jubilee of Mercy may be a year of grace from the Lord,
and your Church, with renewed enthusiasm, may bring good news to the poor,
proclaim liberty to captives and the oppressed,
and restore sight to the blind.
We ask this through the intercession of Mary, Mother of Mercy,
you who live and reign with the Father and the Holy Spirit for ever and ever.
A HOMILY IN FRANCIS' FIRST YEAR AS POPE
Pope Francis, as cardinal of Buenos Aires, Argentina, washes and kisses the feet of residents of a shelter for drug users during Holy Thursday Mass in 2008 at a church in a poor neighborhood of the city. Many Latin American church leaders have expressed appreciation for the perspective Pope Francis has taken to the Vatican. (CNS photo | Enrique Garcia Medina, Reuters)
The talk was broken into three parts:




It is the time of mercy in the whole church;

What does mercy mean for priests;

Mercy means neither indulgence nor rigidity.

Buried near the end of the third part was one of the pope's anecdotal gems. Not having read it elsewhere, I decided to share it here.
The story Pope Francis shares is about an elderly priest he knew in Buenos Aires who was known as a great confessor. "Almost all the clergy went to confession to him," said Pope Francis. The priest passed away and Pope Francis, then vicar general of the Archdiocese of Buenos Aires, went to his funeral. Pope Francis describes what happened:
"It was a large church, very large, with a most beautiful crypt. I went down to the crypt and there was the coffin, only two elderly women were there praying, but no flowers. I thought: 'But this man, who has forgiven the sins of the entire clergy of Buenos Aires, also mine, does not have even one flower.'
"I went out and went to a florist shop – because there are flower shops at intersections, on the streets, in places where there are people – and I bought flowers, roses. And I went back and began to arrange the coffin well, with flowers …. And I saw the rosary he had in hand … and immediately there came to my mind — that thief that we all have inside, no? — and while I fixed the flowers I took hold of the cross of the rosary, and with some force I detached it.
"And in that moment I looked at him and I said: 'Give me half of your mercy.' I felt something strong which gave me the courage to do this and to make this prayer! And then, I put that cross here, in my pocket. The pope's shirts don't have pockets, but I always carry here a small cloth case and since that day, up to today, that cross is with me.
"And when I have an evil thought against someone, my hand always comes here, always. And I feel the grace! I feel that it does me good. How much good does the example of a merciful priest, of a priest who comes close to the wounds. …
"Mercy. Think of the many priests who are in heaven and ask them for this grace! May they give you the mercy that they had with their faithful. And this does one good. Thank you so much for listening and for having come here."
Yes, just another day at the office for Pope Francis and another lesson learned for the rest of us.